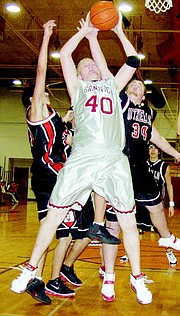 GRANDVIEW - The Othello Huskies made it a game for about two minutes before Grandview's boys basketball team demolished the visitors in a 77-32 CWAC South victory on Friday night.
Othello, still winless in league, scored a bucket on its opening possession, then slowed the game down.
Grandview led 6-2 about two minutes into the game, when the Greyhounds revamped their defense.
"We changed our defense right away," noted Coach Scott Parrish. "We trapped everything on the sideline and baseline to pick up the speed of the game."
It worked, as Grandview forced turnovers along the way to score 21 unanswered points and led 23-4 after one quarter.
Grandview's defense was equally pesky in the second stanza, holding Othello to five points on the way to a 38-9 halftime lead.
The swarming defensive attack kept Othello from even reaching mid-court on most possessions, and led to lay-up after lay-up for the Greyhounds.
Othello's only spark of offensive life came too little, too late in the fourth quarter with 14 points.
"They (the Huskies) did some good things, got some good shots," Parrish said. "Our kids were playing hard, and their kids were playing hard to the end."
But good things came in droves for Grandview, and its hard working offense.
The staggering numbers included 23 Greyhound steals and forcing 32 Othello turnovers. The generous Grandview offense dished out a combined 26 assists and on defense held Othello to just four assists.
Rebounds went Grandview's way, as well, with a 33-28 Greyhound advantage.
It was a complete victory, sparked by that six-minute stretch in the first quarter, which Parrish said was one of his team's best all season. "Othello is down this season, so that may not have been as impressive a run as others we've had this season," observed Parrish.
With the game in hand early, Parrish was also free to play all of his reserves. Everyone on the Grandview roster played at least five minutes, and only sparkplug guard James Vela played more than 17 minutes.
Eleven different Greyhounds scored, and 10 of them hauled in at least one rebound.
"I have a lot of kids who come to practice every day and work hard but don't get much playing time," Parrish said. "So it's nice to get them all a lot of minutes."
Anthony Andrews was the only 'Hound in double figures, scoring 16 points. Andrews and A.J. Valencia paced the Grandview defense with five steals each.
Vela recorded a game-high nine assists to go with eight points and four steals.
Nate Zavala added nine points and C.J. Lopez chipped in eight for Grandview, which improved to 6-0 in league and 12-2 overall.
"I was proud of all the guys, they played well," Parrish noted. "They did a pretty good job of rebounding and taking care of the ball-and those are the two things we always look at after a game."
Grandview hosts Connell this Friday, then travels to Toppenish on Saturday.