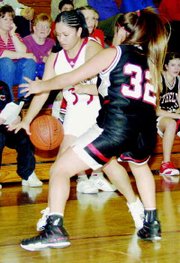 GRANDVIEW - The Lady Greyhounds, trying to get their first league win, played host to the Othello Huskies this past Friday night, losing 62-45.
Grandview played a bad first quarter, giving up 13 points and scoring only 5.
"We are still trying to put four quarters together," Grandview Coach Adolfo Hinojosa said, referring to his team's inability to play well in all four quarters.
The Huskies controlled the first quarter and pretty much the rest of the game by dominating the boards and controlling the inside game.
Othello out rebounded the Greyhounds 47 to 27. The Huskies pulled down 21 offensive rebounds while the Lady Greyhounds managed only 8 offensive boards.
Othello also controlled the paint, out scoring the Greyhounds 32-8 down low.
Grandview played better in the second quarter, trading points with Othello but the Huskies' first quarter performance kept them in the lead, 27-18.
In the third and fourth quarters the Greyhounds played Othello close but couldn't make up for the first quarter. Othello kept its players fresh by rotating and the Huskies' bench out scored Grandview's bench 25-6.
"Othello just executed better than we did," Hinojosa said. "Defensively, we didn't have the same intensity in the first half and that really hurt us."
Cristina Meza led the Greyhounds with 16 points, 6 rebounds and 1 assist. Christine Penwell added 10 points and grabbed 10 rebounds. She also had 2 assists. Danica Rodriguez contributed 6 points for the Lady Greyhounds and Liz Flores and Brittany Contreras each had 4 points.
Courtney Kirkwood led the Huskies with 17 points and 3 rebounds. Allison Walker poured in 13 points and grabbed 11 rebounds. Rachel Mohs and Stacie Villarreal each added 9 points for Othello. Donna Franco had 6 points and 11 rebounds on the night.
"I am proud of how the team kept working hard," Hinojosa said. "That is great to see."
The Lady Greyhounds (0-6, 1-13) host Connell this Friday, Feb. 3.