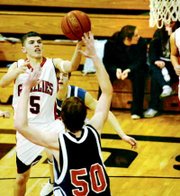 The Sunnyside High School boys basketball team took the bark out of the Bulldogs last Friday night, knocking off Mid-Valley League leading Ellensburg 66-62.
Surprisingly, the upset wasn't fueled by one or two players who turned in monster efforts. None of the Grizzlies hit the double-digit mark in the scoring column.
"This is the first time since I've been coaching that no one on the team has hit double figures in a game," said Sunnyside Coach Steve Urrutia. "It was a very balanced effort on our part last Friday.
"This is what we want...everyone contributing. Everyone is buying into the team concept.
"Against Ellensburg, we got that," Urrutia continued. "Off the bench, we outscored them 33 to 3.
"The thing about us, we don't consider the group that doesn't start the game as bench people," he said of Sunnyside's platoon rotation system, where every minute to minute and a half a new five-man crew hits the floor running.
And running, is exactly what the Grizzlies do for all 32 minutes of each and every game they play. Sunnyside's philosophy is to push the ball up the floor as quickly as possible, taking no longer than 10 seconds to get off a shot...more times than not from behind the 3-point arc.
That was evident last Friday. Of the 61 shots Sunnyside took, about 25 fewer than the Grizzlies usually hoist up at the rim, 42 came from beyond the 3-point line. Of those 42 long range bombs, 12 found their mark, compared to just 1-of-6 shooting for Ellensburg from treyland. Sunnyside's top guns against the Bulldogs from 3-point land turned out to be the trio of Justin Bos (3-for-3), James Baysinger (3-for-5) and Brandon Coleman (2-for-5).
Besides the high octane offense Sunnyside employs, paramount to the Grizzlies' success is their 1-2-2 fullcourt trapping defense. Normally, that all-out defensive pressure yields upwards of 40 turnovers a game. Ellensburg, by slowing the game down in the second half with what bordered on stalling tactics, only coughed up the ball 20 times last Friday.
"They tried playing keep away when they were in their half court game in the third quarter," said Urrutia. "There were several times they didn't take the open shot, instead slowing things down by just passing the ball.
"They did what they could to not get in a running game with us," he explained.
The halfcourt, slowdown tactics by the Bulldogs resulted in Sunnyside having to change its defensive alignment. Urrutia explained that the Ellensburg players were lobbing long, 15 to 20-foot passes while in their halfcourt game, which meant there was too much territory to cover for the Grizzlies in their double-team efforts.
"We were forced to man it up out front and get more selective with our double teams," he said.
Readjusting to what Ellensburg was trying to accomplish paid off for Sunnyside, as the Grizzlies outscored the Bulldogs by a 16-12 margin in the third quarter and 23-19 in the final stanza.
"The first time we played Ellensburg, our kids were intimidated by them," Urrutia said in explaining the Bulldogs' 63-42 win back on Jan. 3. "We weren't this time.
"We're real close to understanding that for us to be successful, we have to go hard for all four quarters," he said. "For us to win, we have to run the other team for all four quarters...get them tired and force them into mistakes."
Friday's victory boosted Sunnyside's conference record to 4-5, 7-10 overall. Ellensburg slipped to 7-2 in league play, now only half a game ahead of second place Hanford.
The Grizzlies have two big challenges this coming week, Tuesday they are at Selah (3-5) and Friday they travel to Prosser (5-4). Sunnyside knocked off both those clubs at home earlier this season, but winning on the road hasn't been the Grizzlies' strength this year.
"We need to get better on the road," said Urrutia, noting that his club has yet to garner an away victory against a Mid-Valley League foe this season.
Ellensburg 13 18 12 19 -62
Sunnyside 13 14 16 23 -66
2-pt. FG-Ellensburg 18/37, Sunnyside 7/19. 3-pt. FG-Ellensburg 1/6 (Affholter 1/2), Sunnyside 12/42 (Bos 3/3, Baysinger 3/5, Coleman 2/5). FT-Ellensburg 23/33, Sunnyside 14/22. Rbd.-Ellensburg 45 (Gordon 12), Sunnyside 37 (Coleman 4, Espino 4, Van de Graaf 4). TO-Ellensburg 20, Sunnyside 12.
Ellensburg: Macherro 1, Affholter 11, Johnson 5, Beach 17, M. Gray 4, M. Gray 2, Gordon 22.
Sunnyside: Coleman 6, Montelongo 5, Briones 9, Simmons 6, Espino 0, Bos 9, Palomarez 0, Engel 7, Jongsma 5, Cornelius 7, Burgueno 2, Baysinger 9, Van de Graaf 1.