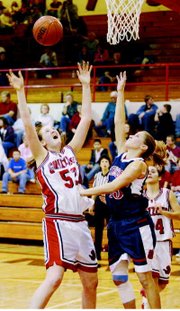 Kayla Standish was on a mission for Ellensburg this past Friday night. The Bulldog's post player dropped in 40 points to bring her team back from as much as a 10-point defecit to drop Sunnyside 65-60.
"I had my second best player on her," said Sunnyside Coach Leo Gomez, who said his team played tight man-to-man defense against Ellensburg. "She just got hot when she needed to."
Sunnyside came out a little sluggish in the first period, getting behind by 5 points early.
A 19-11 second stanza put Sunnyside in good position going into the intermission.
But Standish got hot in the third period, and single-handedly kept her team in the game. Standish scored 11 points in the third period despite the fact that the Grizzlies led by as many as 10 points in the quarter.
"She's the only one that did it," Gomez said of Standish keeping her team in the game. "She just took it all on her own."
A 19-12 final period for Ellensburg sealed the loss for the Lady Grizzlies, who again, shot poorly from the free throw line, which ultimately cost them the game.
The Grizzlies shot just over 50 percent from the line, hitting on 8-of-15 attempts.
Senior Talia Spini also had a team-high 24 points in the loss, to go along with nine rebounds.
Sunnyside had two other players in double-digits, with senior Fatima Reulas and freshman Katie Wutzke scoring 12 points each.
Kerri Urrutia had 6 points in the loss, and Jessica Pacheco and Vanessa Torbay each contributed, scoring 3 points apiece in the loss.
Sunnyside is still on the outside looking in at the District playoff picture. The Grizzlies have just three regular season games on their schedule, and need to win to finish in the sixth and final playoff spot in the Mid-Valley League.
"I don't see why we can't be there," Gomez said of the playoffs.
The Lady Grizzlies (1-8, 5-12) have two tough road games this week, as they travel to Selah on Tuesday night before traveling to Prosser this Friday night.
Both games are scheduled to start at 5:45 p.m.