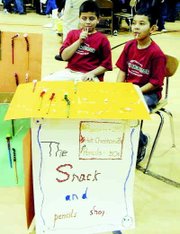 It was a veritable mini-mall at the Lincoln gym in Sunnyside last Friday, with homemade bracelets and trading cards vying for consumer dollars along with video games and face painting.
It was all part of the third annual business fair held for fourth grade students.
The youngsters were responsible for coming up with product ideas that they thought would be most attractive to their classmates. Further, students marketed and advertised their respective products at school prior to the business fair.
"The idea stemmed from a reading curriculum unit on dollars and cents," fourth grade teacher Danny Rangel said of the business fair. "It had real-life stories about business people."
Not only are youngsters gaining encouragement to read through the program, but math skills have been enhanced, as well.
"We teach them how to give back change," Rangel noted. "Most of them have calculators but some have already come up and told me they were able to count back change on their own."
Students and staff filled the gym to shop 'till they dropped, or until fourth grade businesses sold out of product.
"The fair only started a couple of hours ago, but some of the kids have already sold everything," fourth grade teacher Roy Montelongo said above the din of the crowded market place.
The fourth grade selling and buying frenzy was more than good fun or a good learning experience, however, but also helped a good cause.
Rangel said some income from the business fair-15 percent-will be donated to victims of Hurricane Katrina, with the remainder used to help fund fourth grade programs and field trips.
The business fair is so much fun, that students often wish they could have similar events as they move on to fifth grade, noted fourth grade teacher Lauren Whitney.
"This is terrific!" she enthused of the 2006 edition of the business fair. "The turnout couldn't be better!"
Rangel added that the lessons learned at business fair go beyond Lincoln gym. "Last year some of the students took their ideas from business fair and opened a lemonade stand during summer break."