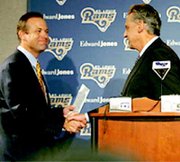 MIAMI, FLA - In less than two weeks as head coach of the St. Louis Rams, Sunnyside native Scott Linehan has already named offensive and defensive coordinators for his new staff.
But the work is still only really starting, he told the Daily Sun News this past weekend.
Speaking by phone from his home in Miami, Fla., Linehan said he had just returned from the Senior Bowl in Mobile, Alabama to scout talent for the upcoming NFL draft.
"There were a number of players we looked at, but it's too soon to tell who we'll draft or what positions we'll draft for," Linehan said in playing his cards close.
Same goes for the free agent market. "I'm sure there'll be some guys we're interested in, but it's too soon to tell.
"The biggest concern is getting our staff up and running," Linehan said.
Former New Orleans Saints' head coach Jim Haslett will handle defensive coordinator duties and Richland native Greg Olson will head the Rams' offense.
In previous stints as offensive coordinator for the Minnesota Vikings and Miami Dolphins, Linehan was responsible for igniting a spark in both teams' offenses.
As a first-time NFL head coach, Linehan, 42, will still call the offensive plays during game time, but will turn over day-to-day operations of the offense to Olson.
A former offensive coordinator at Eastern Washington University, Olson has coached a litany of starting NFL quarterbacks, such as Drew Brees, Jeff Garcia and Rex Grossman.
Speaking of the quarterback position, Linehan said Marc Bulger is his man to lead the Rams' attack.
"Marc's been to a couple of Pro Bowls and he's stepped up into a role that was hard to fill," Linehan said of Bulger assuming quarterback duties from former starter Kurt Warner, who took St. Louis to two Super Bowls.
"He'll be a big factor in what we do, he's really improved in the last three or four years," added Linehan.
Linehan will look to Steven Jackson to again lead the St. Louis ground game.
"He's a good, young back," Linehan said of the Oregon State product.
Another familiar name to NFL fans, wide receiver Torry Holt, is expected to be another key piece of the Ram attack.
Linehan said he hopes to see the return of Marshall Faulk, a running back and pass catching threat who helped lead St. Louis during its Super Bowl years. "He's still got a couple of good years left in him. I hope he has interest in staying."
Wide receiver Isaac Bruce, a St. Louis fan favorite, has seen his contributions on offense decrease in recent years because of injury.
Like Faulk, Linehan said he wants to get the most out of Bruce. "He's arguably one of the best receivers in the NFL," he observed.
"We've got a lot of talent on offense and on the offensive line with guys like Orlando Pace," he added.
While committing to continuing St. Louis' tradition of offensive firepower, Linehan said he shares the Rams' management desire to see the "greatest show on turf" excel on both sides of the ball.
"The biggest goal that management and I have is to develop a team that does well not only on offense, but on defense and special teams," Linehan said.
"That was the thing that was most intriguing about this job. It was the biggest factor in the marriage between myself and the powers that be in St. Louis."
That's right, one of the great offensive minds in the NFL was wooed to St. Louis, at least in part, because of a renewed commitment to defense.
But Linehan knows all too well that to get back on the winning track in the NFC West-the Rams were 6-10 this past season-means dealing with the Super Bowl-bound Seattle Seahawks.
"I'm happy to see the Seahawks do well. I grew up a Seahawk fan," Linehan said of the Rams' divisional rival. "I think Mike Holmgren has done one of the best jobs coaching in the NFL this year."
But that's about as far as the warm fuzzies go.
"I'm a Rams' fan now," he said. "Our guys know that the division goes through Seattle, and it will be a great challenge for our football team to overtake them."
Linehan added that he thinks the NFC West will be one of the NFL's strongest divisions next season, particularly with the Rams' two NFC titles and one Super Bowl crown and the Seahawks, who hope to take the Vince Lombardi trophy this Sunday.
As with the upcoming draft and free agency, Linehan didn't share any specifics on a Super Bowl prediction.
"I think both teams (the Seahawks and Pittsburgh Steelers) have a great chance," he said in true coaching fashion. "I look forward to watching the game."
But Linehan's focus isn't on the Seahawks or the Super Bowl, not even on the Rams' losing season in 2005-06.
"My concern is the future of the St. Louis Rams and what's going to happen here," he said.
Linehan may have set aside his allegiance to the Seahawks, but he is loyal in remembering his Lower Valley roots.
The youngest of seven children, Linehan still travels to the Sunnyside area each year to visit family.
"I'm just proud to be from the Yakima Valley and I look forward to coming back to see my old friends and family."
At the same time, Linehan's childhood lessons growing up in Sunnyside have remained with him as he rose through the NFL's ranks.
Ask him what coach has had the biggest influence on his career, and he'll tell you there wasn't one coach that especially stood out.
His coaching mentor, life mentor, for that matter, was his late father, Bill.
"I pattern myself after my father, he continues to be a big inspiration for me," said Linehan. As principal of Sunnyside High School for more than 20 years, Bill Linehan did what Scott termed, "the best job of combining academics, athletics and school pride."
Other family members, such as his late brother Ron, also provided inspiration to Linehan as he made his way from Sunnyside to the NFL.
"It was a great experience growing up in Sunnyside," he said. "Even today I base my family values on what I learned growing up there."
Speaking of family, Linehan, his wife and three children will continue to call Miami home for the time being. The 2006-07 NFL season won't begin until this fall.
"After awhile in this business you get pretty experienced in moving," said Linehan, who coached one season in Miami after three in Minnesota.
"We're taking our time," he said of transitioning home life from Miami to St. Louis. "We'll decide later when it's the best time to move our family."