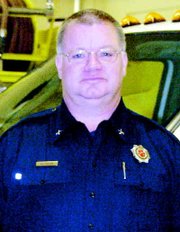 GRANDVIEW - City officials announced Monday that Yakima County Fire District No. 5 Battalion Captain Pat Mason has accepted a position as the new fire chief for the city of Grandview.
Grandview Mayor Norm Childress said of the applications the city received, Mason's stuck out from the rest.
"All of the candidates we interviewed were qualified," Childress said. "Pat stuck out in that group as far as his resume."
Mason, 48, said his interest in the position came because of the fact that it was in Grandview, a city to which he has a lot of connections.
"That's where my family is," Mason said. "I like Grandview; it's a great community."
Childress agreed, and said Mason was chosen because of his connections to the city.
"He's just a real good fit for our community," Childress said.
Mason has worked as a firefighter for more than 20 years, he said, starting as a volunteer firefighter in 1981.
He even worked as a paid firefighter for a couple years in Grandview, he said.
In his new position as fire chief, Mason will be doing a lot of administrative work, Childress said. Things like working with a budget with the city council, and ongoing challenges as a volunteer fire department will likely be the kinds of things Mason will tackle first.
That's something Mason said will likely be his biggest challenge, in going from a fire district to a city fire department - having to do other things besides only fire-related work.
"It brings on new challenges," Mason said of working as a city fire chief.
Another challenge Mason said he'll likely face is trying to get enough volunteer firefighters for the city.
He said it's so difficult to find people to make the time commitment and train volunteers, that keeping enough firefighters on the force could be a challenge.
And as a result, Mason said he could do double duty, both on the administrative side and working on fires, too.
"You have to be willing to do both sides of it," he said.
Mason will also be working with other city officials, such as the police chief in preparing disaster preparedness plans, Childress said.
He'll also be working more with the public, Childress said.
Mason will begin his new job on Feb. 16. Childress said he would be introduced to the council next Monday night at the council's February meeting.