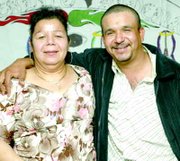 It's been 24 years since Teresa Cendejas of Sunnyside has seen her son, Valdemar Moreno.
The two got split up when Moreno's father took him to see his sick grandparents in Mexico when he was two-years-old. That was the last time she would see him until last night.
Mother and son were reunited at the home of Cendejas. With her were friends and family, including her three sons, who had never met Moreno.
The meeting came unexpectedly after 24 years of searching by Cendejas.
Moreno has been searching for his mother for the last six years. Cendejas moved to the Sunnyside area in 1981, shortly after she separated from her son. Moreno lived in Mexico until about three years ago. He eventually settled in California, where he stayed with relatives.
According to Omar Cendejas, a brother of Moreno who is from Sunnyside but now lives in the Chicago area, the reunion came about because of his step-sister.
"My younger step-sister has an older step-sister," Cendejas explained. "Valdemar's father knew the name of the husband of the older step-sister. He looked him up on the internet and gave him a call.
"The father got the number of the younger step-sister and ended up calling her. He gave her some information on where Valdemar was at and then the father gave Valdemar the phone number of the step-sister and he called her."
It wasn't long after that when the step-sister ran into Teresa Cendejas and told her what was going on.
Omar Cendejas flew here from Chicago last Sunday and on Monday night, the 24-year search for Valdemar had ended.
"I feel happy," Teresa Cendejas said.
"She would have never known him if she saw him on the street," Omar Cendejas said.
She said she couldn't imagine what he looked like. It had been too long.
There were lots of tears and not a lot of talking. Mostly hugging.
Through an interpreter, Moreno said he is very happy he got to meet his mom after searching for six years.
For the time being, Moreno will be staying with his mother, catching up on years lost. One of his brothers, Fidencio Garza who lives in Grandview, said the two siblings will see each other often. The youngest brother, Felix Garza, lives with Teresa Cendejas and Omar Cendejas will be returning to Chicago at the end of this week.
"We'll be going out to a nice dinner sometime this week," Omar Cendejas said.
That's about the only plans so far. The family just wants to spend time together and try to make up for 24 years.
More like this story