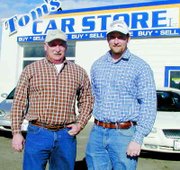 A love of community and for automobiles has kept the owner of Tom's Car Store, at 1020 Yakima Valley Highway, going strong in Sunnyside.
Sunnyside native and longtime resident Tom Johnston has 30 years experience with automobiles, including the last seven as owner of Tom's Car Store at the corner of 10th Street and Yakima Valley Highway.
"We sell good, quality cars for a fair value," Johnston said of his business philosophy. "This is a small community and it's important to treat people right."
A hallmark of the used car dealer's success is that 50 percent of his business is repeat customers, noted Johnston's son, Seth, who helps operate the Sunnyside dealership. Further, he added, most of the business is generated from Lower Valley customers.
"We can show people that they don't need to travel out of the area to get a good used car, we can help people right here," Tom Johnston said. "All we ask is that they give us a try."
In an age where many products are sold by large chain operations, Tom's Car Store is strictly a father-son operation.
"I'm a third-generation car salesman," Seth said proudly.
Tom Johnston noted that most of the vehicles on his lot are 1996 and older, most are priced at $4,000 or less.
"Not everyone can afford to pay $20,000 for a new car," he said. "We give people an opportunity to buy a car they may not have elsewhere."
Johnston said he gets a lot of customers who are looking for a reliable car to get them around town, or to purchase a first car for their son or daughter.
Johnston said he tests all the cars he buys, sending out the vehicles to local repair shops to inspect belts, hoses, brake lights and other safety-related items.
"We really work hard to sell good, quality, clean cars and trucks," he added. "If there's a car with an oil leak out there it drives me crazy until we can get it fixed."
Tom's Car Store also provides financing for customers, usually for 12 or 24 months.
"We finance a lot of people that can't go anywhere else," Johnston said.
Though Tom's Car Store can't go out and obtain a specific auto for someone on demand, the store has been known to develop a wish list, of sorts, for customers.
"We'll have people say something like, let me know when you have a nice six cylinder pick-up," Seth Johnston noted. "So we'll put their name on a list for when we get a pick-up."
So what keeps Tom Johnston, 53, going in the car business after 30 years of working on or selling them?
"I've just got an internal drive system," he replied. "It's a fun business, it's not even work to me. I love it. I love this community."
Johnston added, "It's a good feeling to know you've done your best to provide people with reliable transportation."