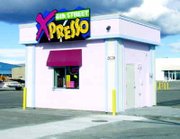 Looking to get your caffeine fix? You're in luck. Sunnyside has another java stand for people to get their daily dose of the stimulant.
Sixth Street Xpresso, which isn't actually located on Sixth Street, opened Jan. 19, and has been doing a lot of business, owner Krisi Dodgson said.
Dodgson said one of the most frequently asked questions she gets is why the business is called Sixth Street Xpresso when it's located at 2630 Yakima Valley Highway.
The answer, Dodgson says, is that this is the second business she's opened, the first was the Sixth Street Coffee Shop and Lunch Cafe, which is actually located on Sixth Street in Prosser.
Dodgson said she's been doing a lot of business since she opened in Sunnyside.
"Business has been great," she said. "And I'm proud to serve Tully's coffee."
In fact, Dodgson said her two businesses, in Sunnyside and Prosser, are the only two businesses in the Lower Valley which serve that particular brand of coffee.
"It's kind of exclusive, and it's good coffee," Dodgson said of the brand.
Dodgson has been involved in the coffee business for seven years, she said. Before that, she worked as a manicurist.
"I miss my clients and my people, but I don't miss doing it," she said of being a manicurist.
So why coffee instead?
"I've just loved doing it," Dodgson said. "But you can never make a good living unless you own something."
February is going to be her grand opening month, she said. To mark the occasion, she'll be offering half price drinks on Tuesdays through the end of that month.
Other specials will continue after the grand opening month ends.
Mondays, Dodgson will offer 12-ounce mochas for $2. Wednesdays, she'll offer double punches on her punch cards. On Thursdays, people will be able to get a quarter off Chai Tea. Finally, on Fridays Dodgson will offer a free syrup flavor added to any drink.
Dodgson said she also plans to try offering free delivery in Sunnyside.
Right now, she and a friend are the only two people running the stand, but she might possibly hire someone to help run things in the future, or to help with deliveries.
"Part of me doesn't want to, but I probably need to stay sane, she said of hiring someone else to work for her.
She said she's been working there seven days a week since it opened.
Problems with cold temperatures and building inspections caused the business opening to be delayed from the scheduled Dec. 1 date, Dodgson said. Now that her business is open, she thinks things are going to start happening in the old K-Mart complex, especially when other businesses open.
"It's going to be a happening place," she said of the area.
The business is open Monday through Friday from 6:30 a.m. to 6 p.m., on Saturdays from 7 a.m. to 5 p.m. and on Sundays from 8 a.m. to 5 p.m.
She said the weekend hours may change in the future.