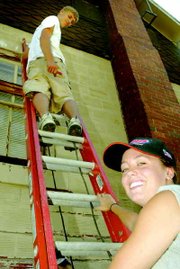 Thirty-two students and six group leaders from around the United States were in town the last couple of days as part of Operation Barnabas.
They came from states such as Pennsylvania, Ohio, Virginia and others to name a few. Operation Barnabas is a summer ministry training program sponsored by CE National, the headquarters for the Grace Brethren Fellowships.
"We go around to the Grace Brethren Fellowships and help with children's ministries," Becky Marras, a student from Cleveland, Ohio, said. "We put on puppet shows, mime, do skits, sing and perform hard labor."
That's what the group was doing this past Monday morning as they pressure washed and scraped old paint from the Cornerstone Church in Sunnyside. "We pretty much do what the church asks us to do," Marras added.
She explained that each Grace Brethren Fellowship can request assistance from Operation Barnabas once every three years. The tour is roughly six weeks long and the group will visit several towns throughout the Northwest.
The current tour started June 13 in Norwalk, Calif. They had their orientation and were split into three groups. One group is going around Southern California, another is covering Northern California and the third is covering the Pacific Northwest.
The group has been in Washington for a week now. After spending some time at the Northwest District Camp, the group went to Toppenish. Sunnyside is the second city on their tour. The group plans on spending two to three days in each city.
They arrived in Sunnyside Sunday night and spent the evening at the Grace Brethren Fellowship, putting on a youth program for kids. "We did some skits and then spent time having a discussion with the kids about what the skits were about," Marras said. She said after the paint scraping at the Cornerstone Church they planned on visiting a nursing home in Sunnyside to visit with the residents.
"This program is an amazing way to serve God," she added. "It's one of the best opportunities for a teenager to learn how to boldly share their faith of Jesus and to show the love of Christ in everything we do."
The group will end its tour at the Brethren National Youth Conference, where they will join about 3,000 other youths and celebrate their accomplishments with singing and other activities.