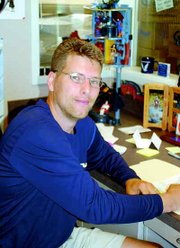 OUTLOOK - Outlook Elementary School Principal Robert Bowman was six years old when his retired predecessor, Cathy Mears, first took the reigns of the rural school 28 years ago.
"I never thought of it like that," laughed Bowman this week, while working in his office to get a jump start on the 2006-07 school year.
Bowman comes to the Sunnyside School District after 13 years in Orondo, a rural school district north of Wenatchee, where he taught seventh grade and served as a middle school coordinator.
The Naches native said he was attracted to the Sunnyside School District, and Outlook in particular, because of its close proximity to family in the Yakima Valley.
Outlook's rural setting is also a plus.
"It shares a lot of the same demographics of the school I came from," Bowman said. "The school there is surrounded by farm land."
Given Orondo's sizable Hispanic population, Bowman said the two school districts offer similar programs in dual language learning.
Outlook is Bowman's first position as principal-the Sunnyside School Board hired him for the post last week-and he anticipates a cooperative effort in school administration.
"I'm still a teacher at heart," he said. "I believe in a team approach."
A new principal is not the only transition at Outlook, as the school will add pre-kindergarten and fifth grade students for the upcoming school year.
"It's going to be chaos for the first few months," Bowman laughed. Steering Outlook through the transition will require flexibility and earning the trust of the school staff, he said.
Though he's been at the school just a few days, Bowman praised his new colleagues' response following the recent death of his father. "The staff was really warm and understanding," he said.
At 34, Bowman brings energy and enthusiasm to the Outlook principal's office.
And he's brought cartoon heroes. Lots of them.
"I'm a big fan of super heroes," he said, admiring a toy replica of the Bat Cave that sits just above his desk. Batman and Robin are joined there by the Justice League and a lone Spiderman seated in the cave.
"I know I shouldn't have Spiderman in the Bat Cave, but you have to have Spidey in there somewhere," he smiled.
The figures represent more than toys to Bowman.
"They represent the ability in all of us to go above and beyond," he said. "I believe in high expectations."
Speaking of expectations, students called to the principal's office may be in for a surprise.
"When you and I grew up, a visit to the principal's office meant one thing, you were in trouble," said Bowman. "Hopefully, this can be a place where a student can eat lunch with me, or we can read together. I don't want it to be that place where you only go when you're in trouble."
It will, however, also be a place students go when they are in trouble. "Trouble is trouble and we have to address it," he said.
Regarding his predecessor in the principal's office, Bowman said he was impressed with the legacy left by Mears.
"I only met her a few times, but her commitment to the community and her love for students were evident," he said. "Hopefully, that's something I can continue."