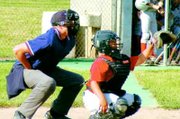 When his high school baseball career ended upon graduation from Sunnyside High School this past spring, Cole Boboth found another outlet to keep him close to the game: umpiring.
With help from mentor Rudy Ramos and a one-day class, Boboth has been calling balls and strikes, out and safe, all summer. "To me, Rudy is the most consistent umpire I've ever had," he said of Ramos.
You'll see Boboth behind the plate for Sun Valley Babe Ruth and Junior Legion baseball games, as well as making the calls for the younger teams competing in Cal Ripken baseball.
He may be a rookie in blue, but Boboth has already mastered a booming "strike" call. He has also taken a cue from big league umpires in using an exaggerated arm motion to call a batter out on strikes.
Since he just graduated from high school a month ago, Boboth said he has called games where players on both sides of the ball were either teammates or opponents from his days in a Grizzly uniform.
"It's not a problem," he smiled.
The son of Fred and Sherri Boboth, he is headed to EWU this fall to study biology. He said he anticipates umpiring each summer during his college years. "It's fun and it's a way to make some money," Boboth said.
At $35 per game, Boboth estimates he makes about $17.50 per hour. Not bad for a part-time summer job.
Baseball umpires aren't exactly plentiful, and Boboth said he works at least one game nearly each day of the week.
When he does work a game, Boboth said he prefers officiating behind the plate.
"If you're out in the field you tend to get lazy," he explained.
When calling balls and strikes, Boboth has a specific strike zone in mind.
To be consistent in his calls, Boboth said he crouches over the left shoulder of the catcher and sets his eyes level with the letters on the front of the batter's jersey.
"That way if I have to look up to see the pitch I know it's a ball," he said.
As much as he enjoys officiating, Boboth said there are challenges. One is the 100-degree heat common during summers in the Lower Valley. Another is screaming fans, particularly parents. "I've only had that happen once so far," he said.
The most challenging part of the job?
"You have to be right 100 percent of the time," Boboth laughed. "If you make one mistake everybody's on you about it."