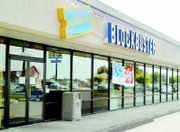 The Blockbuster video store in Sunnyside closes its doors next month.
The Dallas-based company's decision to shutter the Sunnyside location-which marked its 10th anniversary in June-was prompted by an expiring lease and the no late fee trend, claimed store manager Andrea Gatica.
"There wasn't enough business," she said. "But the no late fees, that killed them, because customers could keep it (a game or movie) as long as they wanted and they only had to pay a $1.35 stocking fee."
She said the delay in returning movies and games resulted in some items being out of stock and prevented the store from renting them to other customers.
Blockbuster's corporate office in Dallas confirmed the pending closure in Sunnyside, one of 150 stores nationwide the video chain expects to shut down this year.
Another 150 stores were shut down in 2004 and the same number in 2005, for a total of 450 Blockbuster store closures over the past three years.
But the no late fee trend is not a contributing factor to the demise of those stores, said Jeff Sieg, a Blockbuster spokesperson.
"I think our customers really appreciate that program," he said. He did confirm that the lease was expiring on the Sunnyside store at 2705 E. Lincoln Ave.
"The lease is up and there's not enough foot traffic," Sieg said. "It's not a profitable location for us."
Calling the video rental business a "mature industry," Sieg said the trend toward store closures and consolidation will continue for the next several years.
Blockbuster has 5,475 stores nationwide, and will likely close additional stores over the next few years, Sieg said.
The closures also represent a continuing evaluation of Blockbuster's real estate portfolio, he added.
Sieg said Aug. 6 will be the last day customers can rent items from the Sunnyside store, which will remain open a week after that date to receive returned rentals.
"All customers will get a phone call or letter," Gatica said, noting an outside drop box will be available to accept rentals returned after the store is shut down.
She said all five employees at the Sunnyside store were offered opportunities to transfer to another Blockbuster store.
"To my knowledge, everyone has declined because we would have to drive to Yakima or the Tri-Cities," Gatica said.
Blockbuster is also trying to make provisions for its Sunnyside customers by offering one month of free rentals on-line at www.blockbuster.com.
Though the Sunnyside closure is a business decision, Gatica said the impact is deeper for her.
"We have awesome customers who are in here religiously," she said. "It's more than a business relationship. You make friends, and on that level that's what we're going to miss the most."
Sieg echoed a similar sentiment.
"We regret that we have to close our store in Sunnyside, and we appreciate our customers' business there over the last 10 years."