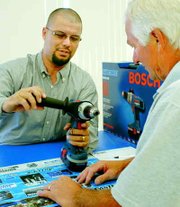 Open just over a week, the Fastenal Company is now doing business in Sunnyside at 1818 E. Edison Ave., next to Amerigas in the Eastway Shopping Plaza.
The Minnesota-based company sells industrial and construction supplies.
"We have everything from toilet paper to nuts and bolts," said Sunnyside store manager Tony Steffen.
Nuts and bolts are, well, the nuts and bolts of Fastenal's business.
Whether it's stainless steel fasteners for food preparation equipment or a mega-sized bolt to repair heavy equipment, Fastenal either sells it or manufactures it.
Calling itself the "premier fastener company in North America," Fastenal offers contractors and industrial suppliers a laundry list of items. They include threaded fasteners, saw blades, tools, and tool repairs, metal working, accessories for hydraulic and pneumatic power, janitorial and paper products, as well as electrical supplies.
Founded in 1967, the company is in a continued growth boom, expanding from 600 stores nationwide eight years ago to 2,000 stores today, said District Manager Adam Drozdowski. Sales have grown from $340 million to $1.52 billion.
Sunnyside is one of 200 new stores that Fastenal plans to open this year.
"Demographically we determined this would be a prime location for a store," said Drozdowski, who was in Sunnyside last week to help open the store. "So many people have thanked us for opening this store because before they had to drive to Yakima or the Tri-Cities."