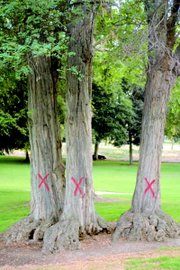 There are 34 trees in Sunnyside's Central Park that need to come down, according to an arborist report commissioned this past spring by the city of Sunnyside.
On Monday, the Sunnyside City Council found consensus in holding a public hearing on Aug. 28 to gain comment on what should be down with those and other tree-related issues in the city.
The consensus was reached after council split on a move that would have called for a hearing, but allowed city crews to proceed with removing trees in Sunnyside parks before gaining public input.
Council members Theresa Hancock, Bruce Epps and Mayor Ed Prilucik voted for the earlier measure. Council members Paul Garcia, Bill Gant and Carol Stone opposed the move to allow tree removal prior to a public hearing.
The 34 trees designated for removal in Central Park represent 30 to 40 percent of all the trees in the park.
They represent even more to Gant.
"That is a big part of the history of Sunnyside," he said of Central Park. "To a lot of people it is the heart of Sunnyside."
While agreeing there are trees in the park that pose a danger to visitors, Gant appealed to his colleagues to bring the public into the discussion on the future of the trees.
"My point is that we better make sure the people of Sunnyside understand the issue," he said. "Even if no one comes (to the hearing), we're at least making them aware so they can see the trees for themselves." Trees designated for removal have a red "x" marked on their trunks
City Manager Bob Stockwell earlier advised council to move forward with the tree removal and other pruning measures. Noting the city had already convened the parks commission to research the issue, Stockwell advised action.
Hancock made a similar point. While favoring a public hearing, she felt the city should proceed now with the removal of dangerous trees. "We've hired a professional arborist who's already told us they are dangerous," she said.
The fact the city now knows the trees are dangerous also makes the situation a potential liability for Sunnyside, if someone is injured by a falling limb or tree, Stockwell told council.
But the issue facing Sunnyside and its city council goes beyond dangerous trees that have decayed due to root damage or disease from being topped. Public Works Director Jim Bridges said some of the trees need to go because they are planted too closely together or are preventing light from getting to smaller tree starts.
During the public comment period last night, resident Don Outhet said he understood some of the trees were being removed because they blocked the growth of grass or impeded the desire to build a grandstand near the swimming pool.
"If there are so many trees (that are dangerous) then the park should be closed," he added. Outhet also cautioned council that trees planted to replace those designated for removal will take 20 to 40 years to grow and provide shade. He pointed to Grandview's Central Park as an example of what can happen if trees are removed. "They don't have a park there," he said. "They have a nice patch of grass."
Other trees recommended for removal include a row of Poplar trees adjacent to the baseball fields at SunnyView Park and three Silver Maples in Upland Park.
In related news, the city will meet with business owners to discuss the fate of problem trees downtown, such as those with expanding root systems that have caused broken sidewalks.
The public hearing on tree removal will take place during the regular city council meeting planned for 6:30 p.m. on Monday, Aug. 28.
The report on the city's tree recommendations is available at city hall.