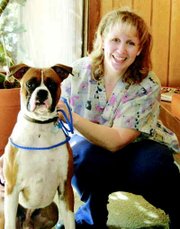 Dena Howe of Sunnyside has been working at The Veterinary Clinic for Jonathan Mercer, D.V.M. since August 1970, and, along the way, she has collected two dogs, two cats and Beta fish.
"And two little boy kittens we're trying to find a home for," said Howe, who can't seem to look a stray in the eye without carrying it home.
Her position as veterinary assistant puts her right in the path of abandoned animals, who don't stay that way long.
A 13-year-old cat that was being boarded at the clinic because its owner was ill became a Howe family pet.
"Its owner died following surgery, so I took the cat home because I knew they'd put her to sleep, if they took her to the humane society. We had her until she was 16," Howe said, with an impish grin that would be right at home on the face of her 8-year-old son.
Grins seem to come easily to this single mom of two, who was lavishing them-plus hugs-onto a very large, abandoned dog earlier this week, who was receiving more than his share of TLC at the clinic.
"I've had animals ever since I was a little girl. We have a pet cemetery up at my mom's in the back yard for all the animals we've had," Howe said.
Although she answers the phone, makes appointments and helps people when they come into the clinic, working with animals is what Howe said she likes best about working for Dr. Mercer, whom she also assists in surgery.
"I like taking care of them. They come in and they're happy and then there are ones who come in sick. I like helping get them back on their feet, and we have our sad moments when we lose them," said Howe.
She said she came to her job as an inexperienced pet-lover.
"I had hands-on-training and just kind of learned throughout the years," said Howe, who worked her way up the education ladder to earn a General Education Degree through several years at Sunnyside High School, home study and the Grandview campus of Yakima Valley Community College.
She works alongside Doctor's wife, Carol; Paula Yates, a part-time assistant; and Krista Ingalsbe, a Prosser High School graduate, who has been helping at the clinic since 2003 and intends to enter veterinary school in a year.
In her free time, Howe said she's pretty much of a homebody.
"I take care of my kids, spend time with my family. My grandma lives here (in Sunnyside) and my mom still lives here and there's lots of cousins.
"Mainly, I'm just taking care of my kids right now," said Howe.
Well, better make that kids and animals.