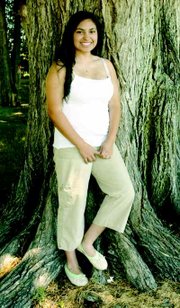 Sunnyside's Brittney Amaro wants to get to know her community better. That's why she's in the running for the 2006-07 Miss Sunnyside crown.
"I'd like to know what's going on and how we're changing," the young Miss Sunnyside hopeful said. By becoming Miss Sunnyside, she thinks she can make a positive impact on the Sunnyside community. By being a role model, Amaro hopes to show teenagers there are many different opportunities out there. "There's more options available than just doing the common thing," she explained.
This is why she wants to become Miss Sunnyside. "I could prove to younger girls that anything is possible," she said. "You have to be dedicated to who you are. You have to be yourself." This is what she hopes to show to other people.
If Amaro does win the title, she will promote literacy for her community service project. "I'd like to work with Headstart and influence the younger kids," she said.
Amaro is heavily involved with drama and choir. In middle school she was involved with volleyball, basketball and fastpitch softball, along with drama and choir.
"It got to be too much," she said. "I was always either going to practice or rehearsal."
So she traded basketball and volleyball for choir. She likes to be on stage in front of other people. She says it helps her with her stage fright. And drama, she says, allows her to be herself on stage and have fun.
She's been singing since she was a small child. "I used to sing to myself," she remembered. "My parents encouraged me to keep it up." Her favorite style of music to sing is country music. Country songs tell a story, she said. "I like that."
For the talent portion of the Miss Sunnyside Pageant, Amaro will sing. She's actually sung in a few talent shows. "I didn't win but I was glad to have the experience of being on stage," she added.
Her hobbies include, what else, singing. She also likes to dance, act, play sports and spend time with herself, but also with friends and family. She likes to watch TV and she said one of her favorite channels to watch is the cooking channel. "I like to cook," she added.
She also excels in the classroom. Amaro said she gets mostly A's and B's but adds she hates to get B's. She recently took the WASL test and passed all sections except the math portion, where she missed passing by two points. She plans on taking some summer school classes and retaking the math portion of the WASL at the end of the summer.
She also hopes to take some Running Start courses this year. "It would give me a big advantage," she admits. Math is one of her favorite subjects and she would like to study finance in college.
Amaro's role models in life are her parents. She said they have helped her and her three siblings to be the people they are today. "Without their help I wouldn't have turned out so great," she said with a laugh.
They have been very supportive she said. "They're always looking out for me," Amaro said. "I'm the first one in the family to run (for Miss Sunnyside) and they're very excited about that."
Amaro is excited, too. She's looking forward to spending time with and getting to know the other girls in the pageant.
"I like meeting new people," she said.