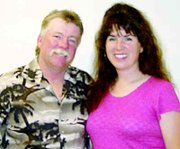 MABTON - For the past three years Colin and Cindy Mears have been offering tours around the Yakima Valley that feature the agriculture, recreation and history that the area has to offer. Since this past April, they have added wine tours to their array of services.
Colin had already been taking groups for tours to places of agricultural interest, such as hop yards and fruit orchards.
He runs a family farm with his wife of 11 years. They grow asparagus, grapes and cherries, and he has worked at Russell Crane in Yakima for the last three years. Cindy works part-time at the local movie theater in Sunnyside, and she also works full-time on their touring business.
The Mears' began receiving requests for wine tours from customers and decided to buy a van with seating for up to eight people that used to shuttle people around the Los Angeles airport and tour the Yakima Valley.
The demand for their wine touring business continues to grow as they are booked for most of the weekends throughout the summer.
They offer customers the flexibility of choosing which wineries they would like to go to, without having to plan in advance. The Mears are willing to drive anywhere, even Mt. Rainier if that is what a customer desires.
"I want to be able to take people on tours the day they get into town. We want to be accessible to everybody," Colin said.
Groups as small as two or as large as eight can book a wine tour. "We cater to smaller groups, and we want to make it more personal," said Colin.
So far, the Mears have enjoyed the wine tours. "All the wineries have different personalities," explains Cindy.
The driving for the tours is usually spilt between Colin and Cindy, but Bruce Patnode, Colin's brother, helps as well.
The wineries along the Rattlesnake Hills have been very helpful to the Mears, along with the Yakima Visitors Center and the Prosser Chamber of Commerce.
The tours typically last five hours and cover about seven wineries. Lunches made by a professional chef are provided.
Their business is not just for wine tours, as they hope to take people to concerts at the Gorge, tour local breweries, drive groups to dinner so they do not have to worry about a designated driver, and drive groups for weddings and bachelorette or bachelor parties.
For more information, Cindy or Colin can be contacted at 509-985-8628, at their website www.yakimavalleytours.com or by email at candcmears@bentonrea.com.