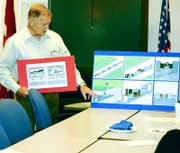 Greg Schlieve posed this question. "If a soldier, sailor, airman or marine from our area were to die in Iraq or Afghanistan today, where would we engrave his or her name?"
His answer-a memorial along Ninth Street between Edison and Franklin Avenues. This is where the Jerry Taylor Veterans Plaza is and Schlieve said the City of Sunnyside has given American Legion Post 73 the go-ahead to re-model the area.
"By building a memorial for all veterans, we will also be building one for tomorrow's veterans," Schlieve told the Sunnyside Daybreak Rotary Club Wednesday morning.
The plan is in place, the only thing missing is money. Schlieve told the Rotarians it will cost approximately $80,000 to complete the first phase of the project.
The area needs to be completely re-curbed and cement foundations and sidewalks need to be poured. Eight loops of electrical conduit around the entire area for 24 lights with poles, plus a new panel also needs to be installed. The front of the existing flag pole in the area needs to be re-surfaced. Also, $20,000 worth of paving bricks will be installed throughout the length of the Ninth Street plaza.
Schlieve said the memorial will be for all veterans, whether they served in peace time or during war. He said there aren't enough memorials in towns across the U.S. "We need to see more of them," he said.
To raise the money needed for the project, bronze plaques will be sold for $300 each. The plaques will be placed in large granite slabs with the name of the veteran on them. Schlieve thinks he needs to sell 150 plaques to get the project started. He figures if he can sell that many by Veterans Day and then another 250 plaques by Memorial Day, the first phase could be completed by the fall of 2007.
The plaques can be purchased over time with $100 down and the rest payable within a year. It doesn't matter whether the veteran has passed on already or is still alive. They don't even have to be from this area.
Phase two will take an additional $170,000 to complete. During this phase, the granite slabs will be put in place. On the south side of the memorial, a granite slab with the image of a soldier cut out of the granite will greet people. Benches will placed along the memorial to give people resting places as they spend time at the memorial.
People wishing to buy a plaque or donate money to the cause can contact Schlieve at the American Legion Post in Sunnyside.
"In combat it's ironic that you see the very best in people," he told the Rotary Club. "Memorials of this type celebrate what each soldier goes through."