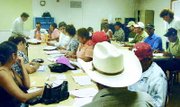 Pending immigration laws that could shake up residents who have lived five, six and even 15 years in the United States-and Sunnyside specifically-have given birth to a citizenship class at Nuestra Casa at 1007 South Sixth Street.
"We had a request for a citizenship class from people attending other activities here," said Blanca Orozco, community outreach coordinator.
"When a request is made, we look to see who can help us out," said Orozco.
Their sight fell upon Julio Romero, who has been helping Hispanics become U.S. citizens since 1995.
"I was United Farmworkers president in 1994 and I have a facility to work with the farmworkers. We like to unify the community. We don't want to see Anglos and Hispanics separate. We want to be one," he said.
So Romero was asked to start a class in Sunnyside, where he had taught citizenship classes in the '90s.
"The ladies were saying 'Let's try and get our citizenship because we don't know what changes are coming with immigration', and citizenship also provides more security for their families," said Orozco.
Responding to the Nuestra Casa request, Romero gave 37 Spanish-speaking men and women 10, two-hour sessions to prepare them for the test that would make them full-fledged citizens of the country they have chosen to call home for many years. That class was completed in June. He is in the process of instructing another 25.
All are legal residents in the United States, a requirement for citizenship application.
And all are trying to learn English, at least enough to read and write the 49 sentences that are required by the citizenship test, which selects about a dozen questions from 96 the applicants must know.
Not all who went through Romero's first class sent in their application packet.
"A lot of it is the fear of failure. When they send in paperwork, they know they have to be ready when they get an appointment for the test," said Orozco, who added that several came back for the second class and some are waiting until they have polished their English language skills.
But Orozco said she has heard from three who went through the first class and have become citizens and also from several who have received notification of an August testing date. "They are scared and excited at the same time," she said.
Orozco praised Romero for the time he has voluntarily given to this project of Nuestra Casa, whose goal is to "empower Spanish-speaking immigrants".
The 20-hour class costs just $10, which includes materials. It costs $400 to submit applications to the immigration department.
An applicant can expect a test date about three months after sending in the application packet.
"In Julio's class, they learn why citizenship is not just given, that it's something we earn. Something we're proud of receiving after all the hard work put in," Orozco summed up.
"I like to teach citizenship classes because I have the motivation to integrate Hispanics into the system," said Romero.
The classes Romero gives voluntarily falls right into line with his job as education manager with Consumer Credit Counseling Service in Yakima.
He explains that integration into the system could mean establishing a healthy credit rating, not becoming a slave to credit cards and opening a bank account to save the cost of cashing checks and to facilitate monthly savings.
"And learning about programs that make it possible to become home-owners, which will make them property taxpayers as well as paying taxes on things they buy," said Romero.
For Baltazar Lopez, 58, of the Sunnyside/Mabton area becoming a citizen simply means that "I want to vote for a different president".
Lopez said he also thinks that, as a citizen, he will have more rights and more security for his family than he does as just a permanent resident, who has worked at a feedlot for a Sunnyside dairy for the past 12 years. And, he admitted, the pending immigration laws are part of why he is seeking citizenship at this time.
Lupita Barajas, 19, of Grandview said she is taking the citizenship class after watching her parents go to work in the fields every morning.
"I told myself I don't want to be in that position when I grow up and have kids," said Barajas, who is studying at Columbia Basin College in the Tri-Cities, with the help of financial aid and tuition payments by her mother.
Juventino Abonza, 32, of Sunnyside came from Cd. Altamirano, Guerrero, Mexico 13 years ago. Being able to vote in this country is high on his list of reasons for wanting to be a U.S. citizen. "Voting and serving for the United States," said Abonza during class this past Monday.
Some of Romero's students will take their citizenship tests in English, some in Spanish and some orally.
"If they have been a permanent resident for more than 15 years and are 55 years or older, they can test in Spanish," said Romero.
Oral testing can be given to those who can not read or write in any language.
Learning English is a goal of all Romero's students, although some agree with Lopez, when he said, "I feel that the English I know is not enough, but, because I'm older, it's harder, but I still study as much as I can."
There is an ongoing English as a Second Language program at Nuestra Casa from September to June every year. Classes are halted during the summer days, when work is plentiful in the fields and draws students in that direction.
Nuestra Casa, directed by Sister Mary Rita Rohde, does offer three classes during the summer: driver's education, taught by Mabton Police Officer Ruben Bayona; First Aid and CPR, taught by Red Cross Certified Instructor Orozco; and Romero's citizenship classes.
Romero said a citizenship applicant can expect the process to take six months.
"Some take more, some less," said Romero.
But patience seems to be ingrained in the students that are rotating through his classes.