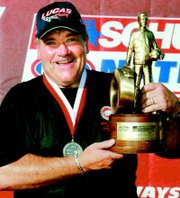 KENT - Hitting speeds of 155 mph in a quarter of a mile for two qualifying rounds and six elimination rounds was enough for Sunnyside's John Dalrymple to take home first place honors in the Shucks Auto Supply NHRA Northwest Nationals. The drag racing event was held last Sunday at Pacific Raceways in Kent.
Dalrymple competed against 62 other drag racers in the super street class for his first win in a national race.
"It's the biggest thing," Dalrymple said. "I'm still floating. I couldn't of done it on a better day. It was my son's birthday, all four of my sons were there, both my daughters-in-law and my two-month old granddaughter."
Dalrymple is the owner of the Johnny 'B' Good Racing team. He has three cars; one driven by his oldest son Michael and the other driven by Wayne Linder Jr.
"A national event is the biggest we can win," he added.
Dalrymple usually races his 1967 Camaro, which features a 538 cubic inch engine and 1,109 horsepower. A typical seasson includes eight divisional races and two or three national races. This is his eighth season on the circuit.
"My car is the second fastest super street car in the nation," he said.
In the super street class the cars aren't allowed to run faster than 10.90 seconds down the quarter-mile strip. If he runs faster than that he automatically gets disqualified. His car is so fast and powerful, he must use a throttle-stop for four seconds before he can open up his car.
Dalrymple took home approximately $13,000 last Sunday for his efforts. "It's not about the money," he said. "It's all about bragging rights." He added the prize money helps buy new parts.
He's been in four divisional races this season and last Sunday was his second national race. Earlier in the season his team competed in Chicago. There, his car was named 'best appearing car.'
He also received what is known as a Wally. It's a trophy depicting a man with a racing helmet in his hand and the other hand resting on a tire. The trophy is named after NHRA founder Wally Parks. "They're really hard to come by," he said. "In each divisional race you have 400 to 500 racers trying for eight Wallys."
The race in Kent will be shown on TV Saturday, July 29, at 9 a.m. on ESPN2.
This was his team's second win of the season. Earlier, in Boise, Idaho, Linder won in the super gas class.
An up-and-coming drag racer, Linder's son Layne, won his second race of the season July 15, at Renegade Raceways in the junior division. He won his first race during the start of the season and then went through a four-race dry spell before capturing another title.
His dad said some luck played into his victory. Because of the heat the race started later than usual and the cooler air and a tailwind helped Linder's car. "The cars were running faster because of the cooler air," his father said.
The junior division competition consisted of three rounds. The first round Linder's opponent red-lighted, giving Linder the win. In the second round, his opponent broke out and went faster than his allotted time of 12.90 seconds. This put the youngster in the finals against friend Josh Dalrymple. Dalrymple red-lighted, giving Linder his second win of the season and moving him into fourth place in the season standings.
Young Linder will try to move up in the standings Saturday, Aug. 5, at 8 p.m. in his next race at Renegade Raceways in Yakima.