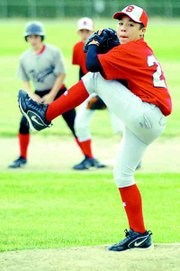 An 11-run fourth inning rally was more than enough for Richland in a 20-3 win over Sun Valley in 13-year-old Babe Ruth action in Sunnyside yesterday.
"They could hit the ball solid, they were fundamentally sound," Sun Valley Coach Jaime Garcia said of the Richland team, which pounded out 31 hits.
The lopsided score resulted in the game concluding after five innings of play.
Sun Valley, which fell to 0-3 on the season, scored all three of its runs on passed balls issued by Richland pitching.
Andrew Daly was 1-for-1 at the plate for Sun Valley, with a run scored. Teammate Rigo Valdez was also 1-for-1, with three stolen bases.
"We just have to mentally be ready every inning," Garcia said of Sun Valley, which returns to the diamond tonight at Pasco. "It's early in the season," he added. "They (the Sun Valley players) haven't seen this kind of competition in school ball. The Tri-City clubs are stronger."