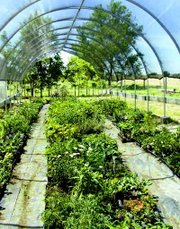 A hidden treasure of unusual herbs and plants is nestled on 10 acres between Grandview and Prosser, so near to Prosser Butte that it appears a giant step would elevate you to that grandiose view of the Valley.
Nature's Farm and Nursery was started by Kelly Pfeufer-Wiegers, with help from her husband Scott, nine years ago on a part-time basis. For the past four, she has been offering her medicinal and culinary herbs and perennials from May 1 to Oct. 31 on site and also at farmer's markets in Prosser, the Tri-Cities and Yakima.
She likes to surprise children, as well as adults, with her Berlandiera plants, which have a daisy-like flower with a chocolate fragrance.
"And I call these the shy plants and grow them for the children," Kelly said, pointing out sensitive plants that fold their leaves when gently tapped, only to unfold within 10 minutes.
Solving gardening problems is also high on her list of priorities.
"I'm always searching for something similar to cilantro, which doesn't grow well here because it's too hot," she said.
She's found several good spicy substitutes, but is still looking.
In her search, she's found non-invasive plants to take the place of those whose roots wander all over a garden space. Among them are a bush-like Blue Mint and a non-seeded Lemon Balm that has to be raised from cuttings.
Then, to prove that nature provides everything humans need, she has Purple Shisho, whose cinnamon scented leaves are used in Japanese cooking, and Stevia, a tender perennial that is an herbal alternative to sugar. It's sugar-sweet, dried leaves can be ground and used as sugar.
She begins the season with herbs and closes with pumpkins-but not the usual orange variety. Kelly's pumpkins may be white with vertical orange stripes, blue or bumpy red. And she even grows some with bat wings.
She also takes her show on the road, speaking to garden clubs and groups interested in being introduced to unfamiliar plants.
Nature's Farm and Nursery at 4902 South Wilgus Road, just off Wine Country Road, offers a wide variety of plant life that is fun, useful, beautiful...and tasty.
Soon, Kelly intends to lay out a picnic area.
"So people can just come, sit, relax and enjoy farm life," she said.