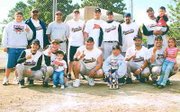 There are hot streaks, and then THERE ARE HOT STREAKS! The Sunnyside Brown Sox/Tanel 360 men's slo-pitch softball team can claim to be on the latter.
This past Saturday and Sunday, for the second consecutive weekend, the Brown Sox advanced to the championship game of a two-day tournament.
Unlike the squad's performance from the previous weekend, when the Sox topped the field at the fourth annual Pacific Northwest Men's Softball Tournament at Toppenish's Yakama Nation Sports Complex, the Sunnyside club settled for a second place finish over the Memorial Day holiday.
Playing in what's referred to as a Super NIT event, staged in Kennewick this past weekend, the Sox came up on the short end of a slugfest, 35-31, in the title game. Despite sustaining the loss in the championship game, the Sunnyside athletes earned a berth to the Men's Super 'D' World Championships, scheduled for early October in Indianapolis, Ind.
"We are planning on going," said the team's manager, Bob Sarmiento Sr. "We will try to raise some money to make the trip," he added, explaining that one such fundraiser will occur the weekend of June 17-18, when the squad hosts a Father's Day Invitational at Sunnyside's SunnyView Park. Teams interested in playing in the two-day tourney should contact Sarmiento (830-5727).
In claiming runner-up honors at Kennewick this past weekend, the Sox compiled a 5-2 tournament record.
In Sunday's title game, the Sox belted eight dead ball outs (illegal over-the-fence home runs), which resulted in the opposing team being gifted 21 runs.
"We actually beat ourselves by hitting the long ball. We gave the other team runs as a penalty," Sarmiento said.
Three of the Sox were named to the tournament all-star team in Kennewick. They included Andy Carrizales, Lino Gutierrez and Ryan McClure.
The weekend of May 20-21, tournament MVP Chris McCallum sparked the Sox to the tourney title in Toppenish. The Sunnysiders posted a 5-1 record enroute to winning top honors. For their efforts each team member was awarded a championship jacket.
In addition to McCallum being named the tournament MVP, the Sox were represented on the all-tourney all-star squad by Carrizales, Nick Lopez and Bobby Sarmiento Jr.