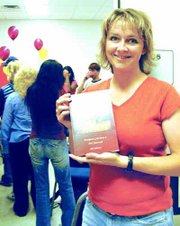 GRANDVIEW - A coming-out party was held yesterday in Grandview to welcome the 2006 edition of Prism, the literary and art journal produced by Yakima Valley Community College (YVCC) English classes in Grandview and Yakima.
For the eighth year, 24 students on the Yakima and Grandview campuses spent 10 weeks reading and viewing more than 150 pieces of writing, photographs and art to come up with a 96-page, full-color book of original work by fellow students.
"This is a totally student-run publication," said Mary Dahlin, class advisor. "And it's been so much fun.
"When they come to class the first day and find out there is no text to buy, that's the good news," Dahlin said at yesterday's celebration. "But then they're handed this huge stack-about 300 pages of material-they have to read completely and sift through and eventually narrow down to 48 from about 150 pieces. If we had our way, they'd all get in; the decisions are difficult."
She said she was especially pleased with the insight the students showed with a specific story, Serenade.
"They immediately recognized that it was written in dialogue and they took parts and read it aloud. It was flat on the piece of paper, but came alive when read in dialogue," said Dahlin.
The students had no idea who the authors, artists or photographers were as all work was submitted to them without identifying names.
"It's completely objective," said Dahlin.
The author of Serenade proved to be Walter Schlect, a 17-year-old Running Start student from West Valley High School, who will attend Washington State University in the fall to study creative writing and German. His story won one of the six Prism honorable mentions. A second entry of his, Let's Call the Whole Thing Off, won the Prism Award, this year's top prize for best prose work for either fiction or creative non-fiction.
Grandview student Teresa Kollmar's photo of an abandoned church in Charlo, Montana (entitled Old Memories from Charlo, Mt.) won the Tayer Award, named in honor of faculty emeritus Delma Tayer, a practicing artist, author and educator who began her career at YVCC in the early 1960s.
Kollmar, a semi-professional photographer, has submitted work to Prism for three years, always winning first place awards.
"But this is my first cover!" she said, jubilantly.
She said she hasn't been so lucky when exhibiting at Yakima fairs. "The Yakima fairs still elude me," she said, laughing. "My photographs have made it into the Judge's Honor Court from which the Best of Show are chosen, but I've never won a Best of Show, but my kids have (in their age categories), using my camera!"
She has had photos on the cover of the black phone book three times and also in a few catalogs. She uses a 35mm Nikkon, preferring film to digital because she believes she achieves better quality with film for enlargements.
In addition to Kollmar's and Schlect's first place awards, one other among the 49 entries received a first.
The Pier Award for poetry, presented in honor and memory of YVCC faculty emeritus Thomas Lew Pier, an English instructor, poet and fly fisherman, went to Kim Taylor for the poem The Many Eyes of God.
The other honorable mentions, in addition to Schlect's, went to Carly Knoth and Mary Ramirez, both of Grandview, and Lynsey Bernfeld, Joy Oaks and Joletta McKliget.
"I'm always impressed by the work that is accepted," said Dr. Linda Kaminski, president of YVCC who was a guest speaker at yesterday's celebration.
"It gives me an overview of the diversity we have in this institution, and I am not referring to cultural diversity, but to creative diversity. I feel (when I read this journal) I'm getting to know you a little better than I would have," said Kaminski.
"There's some incredible material in here, art work, as well as what is written," said Bryce Humpherys, dean of the Grandview campus, as he held up the new edition of Prism.
He congratulated the students who contributed material and the students who selected it and produced the journal. And he called for a round of applause for Dahlin, who took her turn at the podium to invite those in attendance to register in February or March 2007 for the English 170 class that will produce next year's Prism.
Students can submit work for the 2007 edition from now until March 9, 2007.