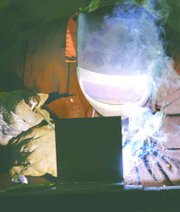 The ongoing debate in Tom Dolan's Sunnyside High School welding class over who is the better welder sparked the first annual Weld-Off held this past Saturday.
"There's a lot of trash-talking going on," Dolan said with a smile. "But I tell them anyone can talk the talk, but not anybody can walk the walk."
A total of 107 welding students at the high school embraced the challenge last Saturday, with five ending up as finalists.
Edward Zaragosa won the competition, with Justin Pace, Isla Garza, Erick Visguerra and Gustavo Canchola taking the other finalist spots.
Steve Anderson of Canam Steel served as a judge for the competition, in which prizes donated by local companies were awarded.
Prizes ranged from a $1,500 wire feed welder to helmets to coupons for Subway sandwiches.
"The kids took it seriously," Dolan observed. "And it wasn't because of the prizes, but just so they could show they were better at welding than someone else."
Noting his students "really stepped up" to meet the challenge, Dolan said some students came in on their own time beyond regular school hours to practice welding.
The competition-and the result of student work-was so well received that Dolan would like to expand the competition to be a county-wide Weld Off next year.
Dolan said his students are trained to meet American Welding Society (AWS) standards-the same benchmark used by union welders.
Apparently Sunnyside High School welders are making the grade, according to Dolan, as several of the projects turned in were at or near professional quality.
"These are skills they'll use the rest of their lives," Dolan said.
In fact, some of his former students already are.
"One of my students is at CBC (Columbia Basin College)," he noted. "He's already been offered $38 an hour (for a welder's position) before he even graduated."