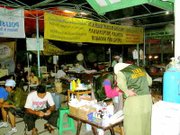 by Sharon Bernhardt
Pator Karen Helsel of the Sunnyside Church of God has a daughter, Sharon Bernhardt, who lives with her husband and two children in Indonesia. They have been there since 1998 and teach at the Mountain View International Christian School on the island of Java and are connected with the Church of God.
Indonesia was struck by a major earthquake last weekend. This is Bernhardt's story.
SALATIGA, Indonesia - Often enough I still live under the premise that I am going to live forever. When I wake up in the morning I hardly imagine I could be facing my last day on earth. Then something happens that sobers me up to that reality.
I'm a night owl and I really love to sleep in. That is what we were trying to do on Saturday, May 27, at 5:50 a.m. Suddenly we were jolted awake and I mean jolted awake! The bed was shaking back and forth and the glass in the windows was rattling.
The wind chime on the front porch was chiming but there was no wind. It lasted for a few minutes after it had woken us. It was a very disconcerting feeling to have such movement and not be able to stop it.
Our first thought was that Mt. Merapi had erupted. For over a month this extremely active volcano has been belching smoke, poisonous gas and ash. The lava dome at its peak is getting larger and an imminent eruption has been predicted. Our friend said she could see some smoke but we just were not sure what had happened.
Then reports started coming in that there had been a 6.2 earthquake in the ocean off the southern coast of Java.
Initially 10 casualties were reported and then the numbers began to swell. After all, they had to remove rubble to find bodies and account for people. The last number I have heard is in the 6,000 range. It is hard to believe that at the moment my house was rattling, so many were losing their lives.
Some villages have been unable to contact the government and have not received aid. They have no electricity and no running water.
Buildings were damaged and many were injured. The hardest hit areas were near the coast. One area alone, Bantul, lost over 2,000 people. The damage extended even to Yogyakarta and beyond.
Yogyakarta is a large city that is very popular with the tourist industry. It is the cultural center of Java, housing the Sultan's palace, batik fabric factories and ancient temples. Structures there received some damage, including the airport. The hospitals were overflowing and people were being treated in the parking lots.
I made a trip to the area and outside agencies are already working to help clear some rubble and set up temporary housing. In the future, the work of rebuilding will have to commence. The city of Yogyakarta is about two hours from my home but it took almost four hours to get there.
I went with some Indonesian friends who have relatives in the area. It is really hard to fathom the corruption that is connected with this situation. Giving aid to the government is regarded as unwise because the money will not reach the people who need it the most. A villager we spoke to said they have received a little bit of rice and instant noodles from the government. Even people who walk around with collection boxes are sometimes taking advantage of the opportunity to increase their personal income. We were also told that it would be hard to reach the hardest hit areas with donations because donors are stopped on the way and their supplies reach just the outer areas.
I can't even begin to describe the destruction that I witnessed. The villagers are living in their yards under tarps with all the household items they could salvage.
At night it is pitch black and they usually huddle together in groups because of fear for sure and also to combine resources in the best way possible. The people were shell-shocked. You could see it in their faces. One little boy's face was covered with cuts and his father held him, pretty oblivious to life around him. His face was bandaged, too.
We passed him money and it was like he was in a fog for he did not even know what to do with it.
One house stayed in my memory. It was completely destroyed and one wall partially remained and that wall held a picture. That is all that remained of that family's possessions.
Another house lay in ruins and all that I saw was a china cabinet, undamaged, with knick-knacks still intact inside. Rubble surrounded it.
I can't even adequately explain the destruction I saw or how my heart was torn by it. I feel that the way I helped was just a drop in the bucket but you have to start somewhere and you have to try to meet people's needs in the ways that you can.
If you have heard anything about Indonesia in the news, you know that it has been hammered over the last two years. The list includes: the tsunami, several earthquakes, bird flu and terrorist bombings. The people are no strangers to suffering, but with such a great population and so much poverty, it really makes their already difficult situation much worse.
Many seem to be concerned about what is coming next. If you want to respond to their need, please do so through a reputable organization providing relief in Indonesia.