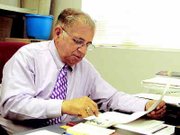 "I'm not retiring," insists Ruben Carrera, an executive director with the Sunnyside School District. "I'm going to still be active, I'm just leaving the district's employ."
Carrera, who describes himself as "plus 65" when it comes to age, was honored recently for his 22 years with the school district.
His "retirement" from the district will take effect sometime this summer, he says, "I'll leave when the job is done."
Carrera has been involved in public education in one form or another for 44 years, spending his first 22 years in Texas school systems before moving to Sunnyside in 1984.
After leaving the district, Carrera says he plans to stay active in the Sunnyside Chamber of Commerce, where he serves as Past President, and offer his experience to other school districts.
Carrera's chief areas of expertise in the Sunnyside School District include Spanish language and translation skills, along with efforts to encourage parents to become more involved with their children's education.
During Carrera's 22 years with the district, student enrollment has grown from 3,300 to 5,800. Student population was 37 percent Hispanic in 1984, while today Hispanics represent 78 percent of school enrollment.
The change, Carrera observes, is in part because migrant families working the fields in the Lower Valley brought large numbers to harvest produce. Another reason, he says, is because the Hispanic population in the Sunnyside area is younger.
Carrera also notes that technology is a significant change since he started here in 1984. He makes the observation while translating an entire document from English into Spanish in just seconds through an Apple software program.
Just as technology has graduated to offer more and more tools, Carrera's retirement is a graduation of sorts as he appears set to teach Spanish at Heritage University this fall.
"They called me up and asked me what I would like to teach," he smiled. "One of my goals has been to teach in college."
Though he is moving on in some areas of his life, Carrera still plans to make his home here in this area and tend to his lawn and flower garden.
He also plans to continue announcing for Sunnyside High School football games and wrestling matches. "I love football and wrestling, I love all sports," he laughs.
But his work as an executive director in the district will be missed.
"Ruben has been a student advocate for all of his 22 years in Sunnyside," observes Sunnyside School Superintendent Dr. Rick Cole. "He's always gone above and beyond what's expected for him and done what's best for kids. He'll be greatly missed."
Carrera's work in the Sunnyside School system is so widely felt that the district is planning to hire two people to replace him-a parent volunteer coordinator position and a director of migrant, bilingual and English language learning programs.