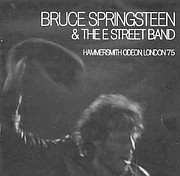 By Nora Hernandez
The year is 1975 and a popular singer and his band have just arrived in London, England for their first concert. Fast forward to 2005 and that same singer has released a compact disc of the songs he and the band performed. While you might think it's just another "greatest hits" or "the best of ..." it's not, and that's okay.
Bruce Springsteen and The E Street Band have just released a two disc CD of 16 songs, including two equally and ever popular "Born to Run" and "Thunder Road". Springsteen admits that for 30 years he never looked at the footage of the filmed and recorded concert. He said he became interested in the early part of his work when, at that time, the songs were "virtually nothing officially released." Yet, to listen to this CD and realize that three decades have passed since it was recorded is surprising. The guy's voice hasn't changed a bit and neither has his style and delivery.
Springsteen thought if he could just take pieces of the concert he might be able to put together a song or possibly two. To his surprise the entire concert was something he decided should be included.
This CD has the typical instrumental sounds that are Springsteen's signature. Just listen to one track and you know its "The Boss". The song "Jungleland" has a fast tempo and then the instrumentals take over, then the lyrics pick back up to a ballad-like performance. That's probably a good thing since the track is more than 9 minutes long.
The songs are all in the typical style that Springsteen is known for. "For You", is somewhat melancholy but it's followed by the fast moving "Quarter to Three".
Many of Springsteen's songs are fun to listen to just because of the quick pace and the clear sounds of the instruments. Some of his songs you need to listen to closely to hear the lyrics to and get the feeling of what he's trying to convey. "Detroit Medley" is enjoyable both for the tempo and sound.
This CD is rock and roll through and through. The music itself is enjoyable and, at times, has a tendency to override the lyrics. That's not necessarily a bad thing. For avid fans of Springsteen, this should be a welcomed addition to your library. If you've never listened to his music, this probably isn't one to start with. A better pick would be one with his most popular hits.
Nora Hernandez is an employee at the Daily Sun News. In her spare time she enjoys listening to music. Compact disc is provided courtesy of Sony Music.