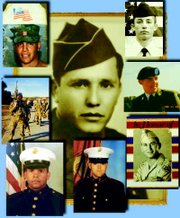 At a parade, when the drums are beating and Old Glory is flying, you'll see Yolie Hernandez standing at attention with her hand over her heart. But let the bugle send taps streaming over the air on Memorial Day, and tears begin to flow.
"I get very emotional," said Yolie. "I'm thinking of all those soldiers who have died. I think of all the parents and sons and husbands and brothers and sisters. I think of my grandchildren, too, and I know they'll be going somewhere before long."
When this mother and grandmother teared up this Memorial Day at the ceremony at Lower Valley Memorial Gardens in Sunnyside, a former classmate, Jerri Honeyford, was there to give her a hug.
"We were just talking, and I started crying and she said 'What's wrong?' and we hugged," said Yolie.
For Yolie, Memorial Day at the cemetery has come to mean seeing lots of people she and her husband Oscar know and getting together with them.
And remembering.
The Hernandez family has a lot to remember.
They look back on a military history that lists 12 family members who have served their country, starting with Yolie's great-uncle, Roberto Ochoa, who was a Marine in World War I.
"He was taken prisoner and he never came home," said Yolie. "His mother cried for him to the day she died. She never even got a body back."
That memory is one that causes Yolie's tears to fall, but her mother's heart weeps for all the fallen.
Recently, she made a list of the men from her family and the roles in which they have served. She jotted those 12 names down on paper bordered with red, white and blue stars-patriotic to the core.
Raised by a father who instilled patriotism and love of America in his six daughters, Yolie grew up respecting the flag and her country.
"I'm proud of them," she says simply, when she talks about "her men".
In addition to the great-uncle who went to war and never came home, Yolie remembers Jose Ochoa, her mother's brother, who served with the Army in World War II and her own father, Oliver R. Vasquez, a life member of the Sunnyside VFW Post, who drove a half-track and guarded prisoners in Germany at the end of World War II.
"My dad was born in Havana, Texas and I grew up in Edinburg, Texas. I was seven years old when my dad volunteered to go to Germany. He was stationed first at Fort Hood, Texas, and then went to New York and on to Europe. The Jews had been taken out of the camps by the time he arrived," said Yolie, adding that the conversation of her father, who is suffering from Alzheimer's now, rambled through those war years as the disease triggered long-term memories even as it erased short-term memory.
When Yolie's father returned from Germany with a gangrenous foot, the family eventually relocated to Sunnyside, where three more daughters were added to the three he brought from Texas.
Yolie and Oscar's two sons, Ruben V. Hernandez, who is a Hanford patrolman, and Oliver V. Hernandez, who is a sergeant with the Sunnyside Police Department, both served in the Marines. Ruben was a sniper and platoon leader with the Super Squad, who traveled all over the world competing with other squads, Yolie said. Yolie sent a lot of care packages when her son Oliver saw action in the first Gulf War as an engineer. During his service, Oliver met his future wife, Julie, who was also a Marine.
"All my kids graduated from high school, but the military is where my sons received their education," said Yolie, who also has a nurse, a cemetery director, a mortgage broker, a computer operator and a grocery store department manager among her children.
Oscar and Yolie have four grandsons in the military, two Marines, one in the Army and one in the Air Force.
They are just beginning military service, and these are the ones Yolie was also thinking about this past Memorial Day, wondering when and where they will be deployed.
One, Keith Hernandez, is being trained as a Marine Scout sniper at Camp Pendleton, Calif., Yolie said. His brother, Richard, is with Marine Force Recon in California. Two other grandsons are medics, Tyler Underwood and Justin Barba, children of her daughter Linda.
A grandson-in-law, 1st Lt. Calvin Peterson of the U.S.A.F., who is married to Yolie's granddaughter, Amy, is in training as a F-15 Fighter pilot.
The last two names on Yolie's military memorial notepad are nephew David Palacios, a Grandview police officer who served in the first Gulf War as a tank commander, and son-in-law Ron Corl of Skamania Landing, married to Yolie and Carl's daughter, Mary Alice. A retired paramedic, Corl was raised in military schools from the time he was a youngster and attended the U.S. Air Force Academy, said Yolie.
Yolie holds their photos in her hands and contemplates the years of service the images invoke.
There is a catch in her voice as she says, "And those are only the ones on my mother's side of the family. A sister of my dad's mother had five sons go to war...and they all came back."
In addition to the great-uncle lost to World War I, there is another in Yolie's family who did not come home.
Her 17-year-old son, Ricky, went to the movies in Yakima two days after Thanksgiving in 1981 and was killed by a drunk driver, who slammed into the car in which Ricky was a passenger.
"That happened right outside of Outlook," said Yolie.
Just nine months before he was killed, the high school student had written a poem entitled The Day. It's subject was the day one passes from this life into another.
Yolie wanted the poem to be engraved on a marble bench that could sit close to Ricky's grave near the entrance to Lower Valley Memorial Gardens in Sunnyside. When she inquired at the cemetery office about how to proceed with the purchase and installation, the manager there told her they wanted to provide that memorial for the family.
Today, Ricky's poem is on the first bench to welcome visitors at the gardens.
And maybe that too explains Yolie's tears on Memorial Day.