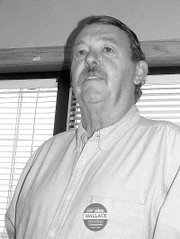 Running on a platform that includes family values and limited government, Mike Wallace of Grandview presented his candidacy for county commissioner to the Sunnyside Republican Club Friday morning.
Alluding to one candidate for the Lower Valley commission seat who is actually from Union Gap, Wallace said there should be a commissioner who actually lives and works in the Lower Valley.
Noting the business experience he has gained from running Hinzerling Winery, Wallace said county commissioners need to take a more hands-on approach with the county's budget, rather than relying on consultants or staff.
"They (commissioners) don't listen to taxpayers," Wallace said.
"I had to make payroll yesterday, so I'm familiar with a budget," said Wallace, who is seeking the commission seat currently held by Grandview's Jesse Palacios. Palacios has indicated that he will not seek re-election.
Wallace said the county needs "to get rid of that jail situation." A new jail built by the county is too expensive to operate, so remains closed. But even then, he added, the jail is costing the county $6,800 every day.
Noting President Bush's recent comment against "catch and release" treatment of criminals, Wallace said if elected commissioner he would aggressively market the jail to the federal government.
Wallace said the county needs to minimize any new legislation.
Regarding unfunded mandates issued by the state or county, Wallace said he would recommend ignoring some of them "for as long as you can."
If funding was necessary, such as addressing storm water issues, Wallace said the county should spend a minimal amount.
Wallace added, "The county has been operating like it is supposed to be about the county's business. That's wrong, they are supposed to be about the people's business."
Along those lines, Wallace said if elected he would "make sure Yakima County government is as open as possible."