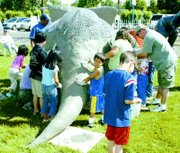 GRANGER - Under the watchful eye of a Parasaurolophus, several children descended on Hisey Park to help give birth to the newest dinosaur, the Chasmosaurus, last Saturday at the ninth annual Dino-N-A-Day.
The family event started at 7 a.m. with a breakfast, with the dinosaur building starting at 9 a.m.
"This is a time when the community gets to help build the newest dinosaur for the city," said Nancy Mortensen, an employee with the Granger Public Works Department.
After the dinosaur is built, it will be taken to the public works department and given a smooth finish. Once a home is picked for the dinosaur, it will be moved and then painted. It should be finished before the Fourth of July.
Granger's mayor and the public works director will mull over the decision and pick a spot for the dinosaur.
"It's really a special thing for us because our city's theme is 'where the dinosaurs roam'," David Leach, Mayor of Granger, said. "It's interactive. Not only do the kids get to make the dinosaurs, they become playground equipment. Tourists stop by and take pictures of their kids on them."
The new dinosaur is Granger's 24th.