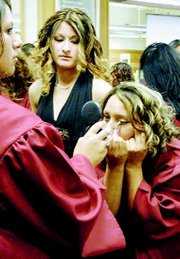 GRANDVIEW - Teacher Chris Fleischer was invited by the Grandview High School Class of 2006 to be its guest speaker at graduation this past Saturday. In return, he challenged each of the 132 graduating seniors to help two younger people reach the seats they were sitting in waiting to receive diplomas.
Fleischer, acknowledging the struggle involved in successfully completing 13 years of education, praised the Class of 2006 for "achieving more than you have dreamed" and "not being afraid to try."
As he looked out over a sea of mortar boards, some personalized with tinsel fringe, silver lettering and photos of best friends, Fleischer also called them "lucky," as they sat under a blue sky on a sunny day after a previous stormy one that had threatened to wash out the commencement exercises held on the green grass of Rich Leenhouts Stadium.
The packed stands were treated to an impressive processional in which graduates were showcased in pairs as the high school band played Pomp and Circumstance. Each couple advanced to stand before their parents and friends for their individual moment in the sun before leaving the runway to the next set of graduates.
The personal acknowledgment by the crowd of the achievement of each graduate made for a warm and friendly, as well as formal, ceremony.
Senior Tamara M. Ehart gave an inspirational reading, followed by the salutatory address of Benjamin Mendoza, who recalled escapades of classmates over the years, including a time "one of our female classmates accidentally ate a paintball...and liked it!"
On a more serious note, he said, "Some of us have been together for 13 years, since the very beginning, but all of us share memories to last a lifetime."
Valedictorian Lorena Valdovinos spoke words of encouragement to the students leaving the protection of home and school to make their own way in the world. And, in a poignant moment, Senior Jessi Babcock sang How Could I Ask for More.
Superintendent Kevin Chase addressed the graduates, introduced by Principal Arcella Hall, and Tim Grow and Alfonso Contreras, directors of the Grandview School Board, presented diplomas.
After receiving diplomas, each of the graduates left the podium with a hug or firm handshake from Hall and Fleischer.
Thirty-five of the 132 graduates received scholarships totaling $564,769. Tonhya Wysong was awarded 11 scholarships for a grand total of $81,375. Kara Stanton and Chase Lindsley each received $70,000 tuition assistance from the U.S. Coast Guard and U.S. Air Force, respectively.
Other scholarship recipients, with awards ranging from $75 to $69,808 were
Anthony Andrews, Brandon Artz, Jessi Babcock, Blake Carpenter, Anagracia Carrillo, Kevin Concienne, Fellsha Cruz, Tamara Ehart, Alicia Espinoza, Olivia Gomez, Rigoberto Guerrero, Rafael Hernandez, Jose Ibarra, Ashley Lara, Francisco Lopez, Franklin Lopez, Olivia Macias, Belinda Martinez, Magdalena Martinez, Veronica Martinez, Benjamin Mendoza, Lizbeth Orduno, Celia Pedroza, Maria Koman, Pedro Sales, Chelsea Stanton, Dustin Taylor, Al Tomizawa, Lorena Valdovinos, Daniel Valle, James Vela and Marlee Ziegler.