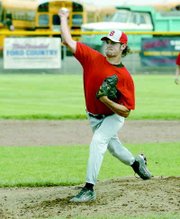 The home field advantage in Sunnyside wasn't enough for the Sun Valley Junior Legion team of 16-18 year-old players this past Saturday, as it fell to 0-4 on the season with 9-0 and 11-1 losses to Moses Lake.
Assistant Coach Rick Puente said some of the few bright spots on the day for Sun Valley was the performance of relief pitchers Robert Snyder (in the first game) and Victory Nunez (in the second).
"They did a pretty good job for us in relief," he said.
Sun Valley travels to Yakima this afternoon to play the Yakima Blues, followed by a game this Wednesday at Selah to play Yakima Valley.
"We've got to get a better feel for the game," Puente said. "We need to improve on execution (in playing the game)."