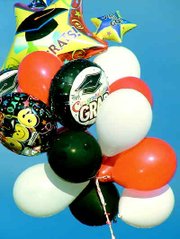 "Savor the moment."
Sunnyside School Superintendent Dr. Rick Cole repeated that mantra a half dozen times during his commencement speech to the Sunnyside High School Class of 2006 Friday night.
There was plenty to savor.
The rainy skies cleared and the clouds parted Friday night, just in time for the 273 graduates to conclude their high school careers.
The celebratory mood continued as co-salutatorian Talia Spini told her classmates, "We are bound together by the fact we are graduates of the class of 2006!" She added, "Relish that these are our last moments together in high school."
Paul Paulakis of Sunnyside was among those enjoying the moment. Paulakis was scheduled to graduate from high school in 1945 but, as Principal Brian Hart put it, "traded school for patriotism" to fight in World War II.
Under the federal Operation Recognition for World War II veterans, Paulakis received his diploma 61 years later with the class of 2006.
Co-salutatorian Jaime Lopez, Jr. encouraged his classmates to push themselves by attending a college or technical school. "Don't be afraid to ask for help," he added.
Class valedictorian Christy Linde continued the tone, noting that graduation is an "opportunity to leave here and be better people."
Linde challenged her classmates not to rest on their accomplishments in high school.
"The best is ahead of us," she said. "The four years in high school may seem like the best years of your lives right now, but I hope 20 years from now you have a different answer."
Marah Traub was selected by the class as the faculty speaker for Friday's commencement service.
Calling commencement a new start, Traub told the graduates the moment was an opportunity to "celebrate your new beginning."
Continuing Linde's theme of looking forward to better times ahead, Traub said, "Your best chapters have yet to be written."
Noting the advice provided once by an Eastern European philosopher, Traub told the class to "shine your light." She added, "You are wonderfully and fearfully made. The world is a dark place, it needs your light."
By the time senior Class President Jesus Alquicira and CaSandra Romero were announced the outstanding boy and girl for the Class of 2006, there were indeed lights shining on Clem Senn Field as field lights lit up the ceremony to fend off coming darkness.
Shining lights which reflected a moment commemorated by graduates, who had colored their hair, decorated their caps and were ready to celebrate with family.
At the ceremony's conclusion, some let fly into the night air with their caps.
Others held on to their ceremonial mortar board, as if they wanted to hold on a little longer, to indeed "savor the moment."