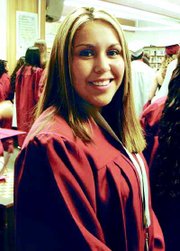 GRANDVIEW - Adelita (Cecy) Ambrocia was a quietly triumphant graduate at the Grandview High School commencement exercises this past Saturday.
"I tried hard to graduate," said Ambrocia, who was fulfilling a goal treasured by her mother.
"I come from a home of Hispanic people. My mom worked in the fields. She was a hard worker. I had no father; she was a single mom with five children and she wanted to see all of us graduate. She didn't want to see us working in the fields," said Ambrocia.
"I had my baby on my 17th birthday when I was a junior. It wasn't planned," said the 18-year-old.
"As a pregnant mom, at first everybody stared at me when I stayed in school. But then everybody accepted it. I had a lot of support from teachers and friends," she said.
Ambrocia chose to keep her baby, but said she didn't have to try to balance a job and school.
"I didn't work. I just wanted to continue to go to school, to do my studies first," said Ambrocia, who is raising her child with the help of its 17-year-old father.
"We're renting a home together and are raising our child. He is a junior in the alternative school and works part time in construction for his family," Ambrocia explained.
She is the fourth among her sisters and brothers to graduate. One of her siblings is a correction officer, one a waitress and one is attending community college in Aberdeen.
"I'm hoping to see my younger brother graduate next year," said Ambrocia.
As for Ambrocia herself?
"This summer I'll work full-time and go to the community college in Grandview this fall. I want to become a teacher and ...," she pauses and then continues with a gentle smile..."I don't want any more children for the next 20 years. My little girl is enough."