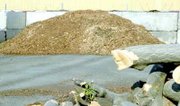 The City of Sunnyside is offering free mulch to the public. The mulch can be picked up at the Public Works service center located at 1509 S. 6th St., Monday through Thursday, from 8 a.m. to 4 p.m.
The mulch comes from tree branches that have been cut from city trees or have been blown down from wind storms. City work crews gather these fallen branches, run them through a wood chipper and turn them into mulch.
"It takes quite a bit to make a load," Jim Bridges, Sunnyside Public Works Director, said.
The current pile is approximately five feet long by three feet wide and two feet tall. It took 10 dump truck loads of branches to make this pile, Bridges said.
The mulch will be available on a first come, first serve basis. The city will not deliver any mulch nor will they help load the mulch. Bridges also reminds people that dumping of branches on city property so the city will pick them up is illegal.
As tree limbs become available, the city will turn them into mulch. "We'll do this all year," Bridges said.