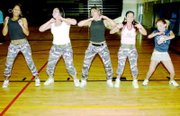 GRANDVIEW - The third annual Grandview High School Follies will be presented this Thursday, June 8, at Grandview Middle School, at 7 p.m. by the Grandview class of 2007.
The follies are a talent show put on by the class of 2007 for Grandview High School students and staff. All proceeds will go to the Susan G. Komen Breast Cancer Foundation. The foundation aims to eradicate breast cancer through research, education, screening and treatment.
All funds raised will be matched by the "Morales Family and Friends" group.
"The Morales name comes from my mom's side of the family," Danika Martinez, a Grandview High School student and organizer of the follies, said. "Our family and friends of our family have pledged to match what is raised."
Martinez said she expects the follies to raise approximately $800.
At the entrance to the follies there will be an informational display on breast cancer and all follies participants will wear pink ribbons to honor and support breast cancer victims, survivors and research, according to Martinez.
This year's follies will feature group dance routines, swing dancing, vocal performances, skits and bands. The theme of the night will be "A Night on the Grand Carpet." There will be a walk of fame and a red carpet to give the evening an Academy Awards feel.
Cost for tickets are $5 for adults, $3 for students with ASB cards, senior citizens and elementary school children. Children aged five and under will be admitted for free.