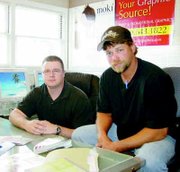 Sunnyside natives Ray Morrow and Mark Kilian have combined to form Mokí Graphics. The two are longtime friends and brothers-in-law, and bring complementary skills to the new company.
Morrow has more than 10 years of experience as a graphic designer, and Kilian brings business experience from running a 100-acre grape vineyard just outside of Sunnyside.
Mokí Graphics also represents a combination of Morrow and Kilian's names, as it is formed from the first two letters of both of their last names.
Kilian said the accent mark on the company name isn't for pronunciation purposes but to reflect an international flair.
That's important, since Mokí Graphics not only serves local clients, such as the Sunnyside School District, but some as far away as Australia.
Elsewhere in the U.S., Mokí Graphics serves clients from California to Delaware.
The range of services isn't just geographically, but in production, as well.
Morrow and Kilian have the software capability and expertise to produce items such as banners, decals, logos, brochures and calendars.
"We can produce all print media," said Morrow, who has a degree from CWU in graphic design. That includes everything from financial reports to business cards.
Mokí Graphics also offers four-color printing for its products.
Based in Sunnyside, Kilian said Mokí will offer its services at prices competitive in the Lower Valley. That same effort at reasonable prices will extend to clients outside of the area.
"Whether it's a person or a small business in this area or a large corporation in Los Angeles, they will pay the same Lower Valley rate, which makes us competitive," Kilian said.
Morrow said Mokí Graphics was in fact opened with the Lower Valley in mind. "We didn't see anyone else doing what we do," he said.
For more on the graphic design services offered by Mokí Graphics, call 643-1822 between 9 a.m. and 5 p.m.
More information is also available on the company on-line at www.mokigraphics.com.