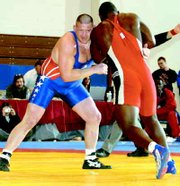 Rulon Gardner, a 2000 Olympic wrestling champion who backed up his gold medal performance with a bronze in the 2004 Olympics, will be one of the instructors at a summer wrestling camp to be hosted by Sunnyside High School.
The camp, scheduled next Monday through Friday (June 12-16), is open to all youngsters kindergarten age through high school. Four different camp options are being offered, tailored to meet individual needs. Breakfast and lunch meals will be provided to those who attend.
Gardner is scheduled to appear at the camp next Wednesday and Thursday, June 14-15.
While Gardner may be the biggest name being brought in by the Rocky Mountain Wrestling Assoc., the group that is coordinating next week's camp, there are several other big-name wrestlers who will be appearing to provide instruction. They include two-time NCAA Championship Tournament finalist and former Utah Valley State College head coach Cody Sanderson and Justin Ruiz, a 2005 World Championships bronze medalist who has a national freestyle championship to his credit, as well as being a two-time NCAA All-American.
Also scheduled to appear as camp instructors are Aaron Holker, a three-time All-American and a 2003 NCAA national champion; and Phillip Simpson, a three-time All-American and a former NCAA Championship Tournament finalist.
Lower Yakima Valley youths can sign up to attend next week's camp by going on-line to: www.rockymountainwrestling.com. Instructions are provided on the website on how to select the camp option that best serves them.
As an added incentive to local wrestlers to attend next week's camp, all youngsters who attend Sunnyside schools will receive a $100 discount on their camp registration fees if they type in the word "Grizzly" in the coupon code box and click "Redeem."
Sunnyside High School wrestling coach George Paulus warns that only Sunnyside School District students are eligible to receive the discount. Those youngsters from outside the local school district who attempt to take advantage of the discount face the possibility of having their registration voided.
"This is a great opportunity for wrestlers in this area," Paulus said. "It's not often a camp of this caliber is offered in Central Washington."
Any questions about the camp can be directed to Paulus (837-6118), SHS Assistant Coach Jason Moyer (973-4135) or to the high school ASB office (837-5801).