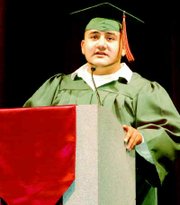 During an at times raucous celebration, 35 students graduated from PRIDE High School during a ceremony yesterday at the Sunnyside High School auditorium.
Whether it was friends and family rushing the stage for photographs, or someone in the audience interrupting a speech by yelling out a name, the graduates and their loved ones were not shy about expressing their delight.
For many, the night represented a victory over adverse circumstances.
One of the graduates, Gabriela Unzueta, shared with the audience her struggles as her mother battled cancer. "I was filled with panic and I felt like my life was over," she said.
Some, like Cecilia Sanchez, are from single parent families. "My mom was the best mother and father she could be," she said.
The student speeches were not only about overcoming difficulties, but about pride in themselves and in PRIDE High School, an alternative school in the Sunnyside School District.
"We should have been invited to the prom," Sanchez said. "We're not bad kids."
Added classmate Adrian Leos, "People like to think that PRIDE is a bad school. But it is not." Leos added that while some attend PRIDE for help with their studies, others are there because they like the small school atmosphere.
There were moments during the ceremony for students and their families to be especially proud.
Leos, who plans to attend the Seattle Art Institute, and WSU-bound Blanca Verduzco received school board scholarships.
The Coca Cola company provided $500 scholarships to Maria Garibay and Robert Perales, both headed to Heritage University.
Roger Perales, who plans to attend Perry Technical Institute, received a $500 scholarship from the Sunnyside United Methodist Church. The scholarship was bestowed in honor of PRIDE High School Principal Gary Babcock.
There was indeed plenty of well-deserved pride expressed for the PRIDE High School graduates.
"We did it!" exclaimed Garibay, one of four graduates who spoke during the ceremony.
Noted Sunnyside School Board member Steve Carpenter, "You're making us all proud."
Unzueta added, "I can tell you with pride that we did it."
Sanchez summed up by encouraging her classmates to not only take pride in graduating from high school, but to take that feeling with them into the future.
"I feel proud to stand here next to you today," she said. "Keep your diploma where you can see it every day so you know that you did it."