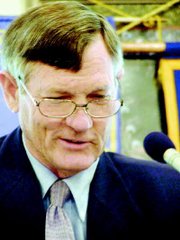 Although the official filing for the one district position that is vacant on the Yakima County Board of Commissioners doesn't open until July 24, a number of eager candidates are making the rounds of service clubs and organizations to announce their intention to run for the office.
Dan Olson, a Republican, made his pitch to the Sunnyside Noon Rotary Club at its luncheon meeting this past Monday afternoon.
"I want to be your county commissioner because we need a more dependable water source. Water is like gold," Olson told the Rotarians, as he advocated obtaining water rights to the Columbia River and pumping directly to the existing canals until, or if, a reservoir is built.
"We don't know when a reservoir will be built and we should be doing this now," he said.
Although Olson put a dependable water source at the top of his priority list for the Valley, he also said he feels strongly about financial responsibility, accountability and stability.
"And we need to provide friendly, courteous service to our citizens," he said, noting that, while there has been a generous, financial outlay to update governmental offices and buildings in Yakima, "the attitude there hasn't changed, and there should be positive service and help in finding solutions and help to get projects underway, to facilitate getting the needed permits."
A resident of Union Gap, Olson said he feels that city and the Lower Valley are "kind of step-children" to Yakima.
"I'd like to see more unity. We need to be building partnerships with cities, businesses, community groups and others in order to increase the vitality of Yakima County," he said.
In speaking with the Rotarians, he pointed out that he has lived his life according to the Rotarians' Four-Way Test, which is to speak the truth, be fair to all concerned, build goodwill and better friendships and consider whether what's being done is beneficial to all.
"You've got to speak the truth," said Olson, adding, "I tell you what I think.
"And you've got to be fair to all concerned. In the county, it hasn't been that way. Will it be beneficial to all...they were told not to build a jail and they built it anyway. I would not do that," Olson vowed.
Olson also filled the Rotarians in on his background, which includes strong ties to agriculture and business.
"I buy and sell real estate, and do some sub-divisions. I think the best investment today is real estate," he said.
But he calls himself "a simple, country boy," who grew up on a dairy farm and is a life-long resident of Yakima County, although he taught in Mexico for two years where, he said, he learned campasino Spanish, which makes him long on fluency, but short in the grammar department.
Olson also established a vegetable growing/export business in Egypt in the early 1980s. He counts the formation of the Union Gap Youth Foundation as one of his proudest achievements. "About a thousand kids have benefited from this youth foundation," he said.
Olson is a member of the Yakima County Farm Bureau, Central Washington Home Builders Association, Yakima Sunrise Rotary and Grandview Chamber of Commerce.
Filing period for the Commissioner District 3 position is July 24-28.