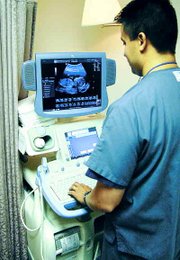 Sunnyside Community Hospital officials last week announced they have acquired two new, high tech ultrasound systems from GE Healthcare.
The LOGIQ 9 is billed as a premier ultrasound system designed to get patients in and out of the exam room faster than ever before, with clearer, more precise images.
The new medical imaging technique, called Volume Ultrasound, will help hospital technologists to quickly and precisely perform a broad variety of ultrasound exams, from abdominal and breast to vascular imaging.
"Virtual re-scan allows our clinicians to create 3D views, analyze high-resolution zooms of anatomy, or apply special reading effects without the patient having to be there or return for additional exams," explained Coleen Goulet. "This is beneficial for extremely sick patients or those with difficulties when being scanned."
Goulet went on to explain that the local hospital chose GE's LOGIQ 9 because it provides a clearer picture to view. She said this greatly assists patients to better understand when doctors explain their ultrasound exams. She said the patient experience gets even better with the help of LOGIQ 9's ergonomic design.
Ultrasound, also known as sonography, creates images of internal bodily structures and organs for diagnostic medical purposes. Ultrasound uses high-frequency sound waves and advanced computing technology to create a real-time, multi-dimensional clinical image.
"We're breaking barriers in speed and accuracy of patient exams and are now able to offer enhanced ultrasound procedures thanks to our new LOGIQ 9 Ultrasound System," stated Goulet. "The technology is greatly benefiting both our physicians and patients of the Lower Valley."
More like this story