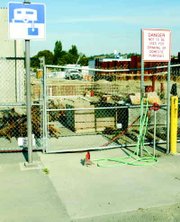 After three months of being closed, the RV dump in Sunnyside located at 1338 S. Fourth Street has been re-opened.
Of the two lanes at the RV dump, only one is available. Both lanes were closed when construction on the treatment plant got in the way. Construction has progressed enough for only one of the lanes to be opened. It is not known when the second lane will re-open but construction on the treatment plant should be finished in April 2007.
There is no cost to dump at the RV dump and there should be no further closures at the site.