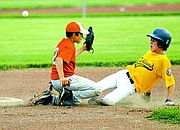 The Sun Valley 14/15-year-old Babe Ruth baseball team broke open a tight game yesterday to run away with an 8-1 home victory over Richland.
The guests scored their only run in the top of the first inning to take a temporary 1-0 lead.
The Sunnyside club knotted things up at 1-1 in the bottom of the first. By the third inning Sun Valley led just 2-1.
In the fourth, Sun Valley gained some breathing room in the pitcher's duel with a two-run rally to go up 4-1.
Meanwhile, Sun Valley starting pitcher Victor Nunez mowed down the Richland batters, holding them hitless after an RBI base hit in the first to record a one-hitter.
Sun Valley did most of its damage in the sixth inning, finally sealing the deal with a four-run outburst.
"There was a couple of errors on their (Richland's) part that got it going," Coach Tom Schmick said of the rally.
Nunez slapped a double to bring in one of the runs and Justin Reyes delivered an RBI base hit during the four-run surge.
Other hitting standouts for Sun Valley included Angelo Salinas' 2-for-4 day at the plate with one RBI. Jaime Sarmeinto was 1-for-2, while Reyes and Nunez were 2-for-3 and 3-for-3, respectively.
"That makes it four in a row," Schmick said of his team's current win streak. "This game ranks right up there among the wins we've had this season."
Schmick attributed Sun Valley's winning ways to a combination of tight defense-just two errors in the last four games-and solid pitching.
A dose of good old fashioned hard work is helping as well.
"The kids are hustling to first base and beating out throws," said Schmick. "They're putting pressure on the other team's defense."
Sun Valley, 6-2, travels to Richland for games today and tomorrow.