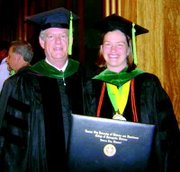 Dr. John Allen had the honor of being invited to the graduation of Tammy Harrington, one of the students who trained for two years at Sunnyside Community Hospital in the medical student program for future doctors of osteopathic medicine.
"She graduated summa cum laude, which is the highest possible achievement," said Dr. Allen, who is the director of the program.
Harrington's graduation took place May 21 at University of Health Sciences in Kansas City, Kansas. During the hooding ceremony, in which the graduate receives the academic hood of her profession, it was Dr. Allen who placed it on her.
The graduation followed closely on the heels of Harrington's final rotation in cardiology at the Sunnyside hospital. She will begin her three-year residency in family practice in Anchorage, Alaska on June 15.
She is now getting settled up north for a two-week, pre-training orientation.
Dr. Allen was able to get double pleasure out of his trip to Kansas City, visiting five days with his daughter in Overland Park, a suburb of Kansas City.