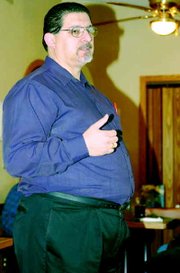 In the year 2050, half of the population in the United States will have Hispanic names, the Sunnyside Republican Club was told Friday morning.
"It is important to recruit Hispanics to the Republican party," Raul Diaz, the president of Hispanic Republicans of Washington, told the club.
He said Hispanics are getting smarter, referring to the increasing number of Republican Hispanic voters. He also reminded the club that it would be President Gore today if it wasn't for the Hispanic voters.
But, he said, Hispanics don't like it when Republicans attack their children.
Diaz said proposed immigration reforms suggesting that children born in America to illegal parents should not have the same rights as other Americans isn't sitting well with the Hispanic community. "That's wrong," he said. "That will make it very difficult for me to go out and talk to the Hispanic community."
Diaz said most Hispanics don't want people to come to this country illegally. He cited the march in Yakima as proof.
"The march in Yakima was a failure," he said. "Some reports said 20,000 Hispanics showed up to march. There are 100,000 Hispanics in Yakima County. Eighty percent of Hispanics stayed home."
He said illegal aliens should not be entitled to benefits meant for Americans. If they are here illegally, they should be sent home. "Most Hispanics want the border closed," he said. "We're just like you," he said.
Diaz said Hispanics have been raised to work hard, to love their community and to respect their parents. "Unfortunately, the Democrats came out and told us we should have free money, free housing and free food," he said. "The Democrats have made Hispanics lazy."
Diaz said the Democrats have told the Hispanics it's OK to be drug dealers and gang members. "Liberalism has made our kids drug dealers," he added.
He went on to say he supports President Bush and called him the greatest president since Ronald Reagan.
Diaz was asked how the Republicans could recruit more Hispanics to the party.
He said the party first needs to come together. He said to support the Hispanic causes, vote for them and talk with them. Knocking on doors is a good way to meet them, he said.