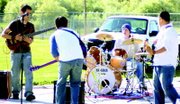 GRANDVIEW - For the last two years Emmanuel Perez, a Grandview High School student, has been putting together a band.
He first started his band, Fe Sin Limite in Spanish or Faith Without Limits in English, two years ago when he wanted to play at a Christian youth camp. He asked his friend Israel Medina if he could play bass for him and Medina agreed. They found a drummer and the blueprints were laid out for the band.
They didn't do too much after that youth camp but when Perez found out about the Grandview High School follies, he decided to put together the band again.
The drummer had moved on already so he recruited A.J. Wheeler to play drums. He moved Medina over to acoustic guitar and added Frank Lozano on bass and his sister, Elizabeth Perez, on piano and vocals. Fe Sin Limite was complete.
"We're mostly into Christian music," Perez said. "We're all from different churches and we came together through the high school."
Perez said he has been playing guitar since the age of 10. He said all of the band members started playing music in the church.
The band recently played at the Concert in the Park series sponsored by the Grandview Chamber of Commerce. The band has been asked to open for the Spanish band Rojo in Pasco this Summer.
Perez and his sister have been writing some of their own songs. "We write them and then play them in church," he said. "If we get a good reaction we keep the song, if the reaction is bad we dump it."
Medina is a senior, Elizabeth Perez is a sophomore and the rest of the band are juniors. Their plans right now are to play as much music as possible together. After they all graduate, they all have plans to attend college. Perez wants to study music.
"When we are done studying, who knows, maybe we'll get back together," Perez added.