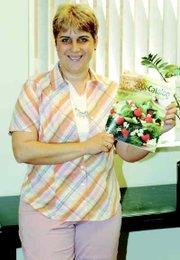 Sandra Linde was appointed to the Washington State Dairy Council last month at a meeting in Lynnwood.
The Dairy Council is part of the Dairy Products Commission which is under the Washington State Department of Agriculture. The two-year term for the seat is up in September and Linde says she plans on running for re-election.
"I've wanted to be on the council for a while because they do such a good job of educating the consumer," Linde said. "I really like the way they work with the health care community and the education community."
One project Linde is very excited about is the new 2006 Nutrition Education catalog. Qualified people such as educators, school nurses and other professionals involved with health education can receive $20 of items in the catalog for free. "People don't know about this and I want them to know," she added. "I'm going to be going to schools to let them know."
Linde works at Sunnyside Community Hospital in community education. "This will also be part of our hospital's Wellness Wednesday program," she said. Linde plans on talking about nutrition at least a couple of times a month.
Exercise bands are one example of what type of things she'll be doing. There are exercise bands in the catalogue and she will teach classes about them as part of the wellness program.
"The Dairy Council doesn't just promote milk," she said. "They promote good, basic nutrition too," she said.
Linde has been part of a family dairy for 22 years. "We're going to target more athletes to use more dairy products," she said.
She also wants to promote cottage cheese. "The average of cottage cheese eaters is the mid-forties," she explained. "Kids don't know how good cottage cheese is. I want to change that. It's great as a dip."
Besides working at the hospital, Linde also works for the Sunnyside School District as a substitute teacher and works with the teen-parenting program.
Linde encourages anyone who wants more information on nutrition to give her a call at 837-1313.